Luxury Travel
Take a 360-Degree Video Tour of Two Mega-Million Superyachts
Each boat is bigger than a boutique hotel and has enough marble for a small castle.
by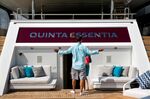 To view 360-degree video, use Chrome or Firefox. (Sorry, Safari users.) If you're using a mobile device, click through to your YouTube app.
Is the Cote d'Azur calling this summer? Want to make a splash in Capri? Few modes of transport get the attention of arriving by yacht—except perhaps, taking a helicopter to your yacht.
These two yachts appeared at Super Yacht Miami at the Island Gardens Deep Harbour marina this year, where some of the newest, most luxurious and exclusive yachts dock in search of owners. In order to gain access to these floating castles, you have to be interested in buying or chartering a superyacht—and have the millions in the bank to prove it.
Or you can whip out your cell phone (goggles, optional) and click on our immersive, 360-degree videos below. 
Quinta Essentia
First up is the Quinta Essentia, a 180-foot-long, all-aluminum, hybrid mega-yacht built by Admiral, part of the Italian Sea Group, with room for 12 guests and 13 crew members. Merlot-red color accents can be seen throughout the ship, a reference to the grapes in the owner's vineyard, Montemaggio, in Tuscany.
At the stern, the "Beach Club" deck folds down for water sports and swimming, and folds up when it's time to cruise. There's a 10-person pool that is continually filled by a waterfall, and an on-board spa that comes with both a dry sauna and a steamy hamam. The interior rooms and cabins are designed in an airy, classic Florentine style by yacht designer Michela Reverberi. An electric propulsion mode give it a range of 6,500 nautical miles—enough to cross the Atlantic twice on one tank of gas.
Total cost? $40 million.
Martha Ann
The 230-foot Martha Ann has a totally different vibe. Yes, there's also plenty of marble, teak decking, and hand-knotted silk carpeting over its four floors, but the interiors by Italian designer François Zuretti are more baroque. The yacht's custom, hand-carved millwork cost 16 million euros ($17.6 million).
A circular glass elevator rises from the lower deck staterooms to the upper deck gym and sports bar and lounge, which has a pop-up TV in addition to a 110-inch home theater projection system. There's 13,000 square feet of interior space in total, with seven staterooms for 18 guests and room for 22 crew members. Since superyacht life means outdoor living, you'll also find an air-conditioned garage to hold all the toys (jet skis, kayaks, and so forth) and a 2,650-gallon "endless" pool that doubles as a swim-up bar. And yes—a deck big enough to land that 'copter.
Own her outright for $79 million—or upwards of 600,000 euros a week.
(
Corrects builder of the Quinta Essentia in the 5th paragraph.
)
Before it's here, it's on the Bloomberg Terminal.
LEARN MORE