business
Paul Singer's Flagship Fund Raises $5 Billion in 24 Hours
By and
Paul Singer's Flagship Fund Raises $5 Billion in 24 Hours
By and
Elliott Management gathers most ever for its main hedge fund

Capital commitments may be deployed over the next 2 to 3 years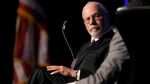 Paul Singer raised $5 billion in about 24 hours for his hedge fund, making it the firm's biggest capital gathering ever, according to two people familiar with the matter.
Elliott Management wants cash on hand to take advantage of a large opportunity that could arise "when investor confidence is impaired, recent correlations and assumptions don't work, and prices are changing rapidly (and in the 'wrong' direction)," the firm told clients in an update seen by Bloomberg News.

The firm opened its doors to new capital on May 3, said one of the people, who asked not to be identified because the information is private. It reached its goal of $5 billion in commitments the next day and is now turning away requests from investors to allocate more money, according to another investor note. Elliott had been lining up pledges from both new and existing clients before the official open, one of the people said.
Michael O'Looney, a spokesman for the New York-based multistrategy firm, declined to comment.
Singer's firm raises money by securing commitments from investors and calling on that cash at a later date. The pledged capital raised this week may be deployed within the next two to three years. This fundraising method, which is atypical for the industry, allows hedge funds to have money on hand to make investments when the opportunity is ripe. Elliott currently runs $32.8 billion, not including the $5 billion in new commitments.
'Coiled Spring'
More than eight years of monetary stimulus has created a world of manipulated prices, Singer told clients.
"Markets may be in a situation somewhat akin to a coiled spring," the firm wrote. "We don't know exactly what factor, event or combination of actions could release the possible pent-up revaluation of markets, but we think that there has never been a larger (and more undeserved) spirit of financial market complacency in our experience."
The last time Elliott raised new money, in 2015, it took two weeks, one of the people said. That year the firm attracted $3.8 billion, and in 2013 it got $3.3 billion, both times through a combination of fresh capital and extensions of previously committed dollars. In prior fundraising efforts, Elliott gathered $3.5 billion in 2012 and $2.4 billion in 2010. This round is the firm's seventh capital raise.
The inflows come at a time when the $3 trillion industry is seeing cash flee. Investors pulled $70 billion last year -- the most since the financial crisis -- and redeemed an additional $5.5 billion in the first quarter of 2017, according to Hedge Fund Research Inc.
Elliott's flagship fund gained 3.1 percent in the first quarter, according to one of people. Last year, it returned 13.1 percent, beating the average multistrategy fund which rose 5.3 percent, according to HFR. The firm, which Singer founded in 1977, has one of the best long-term track records in the industry, producing an average annual gain of about 13.5 percent since inception with only two down years.
(
Updates with details on firm's outlook in second paragraph.
)