Five Things You Need to Know to Start Your Day
Get caught up on what's moving markets.
by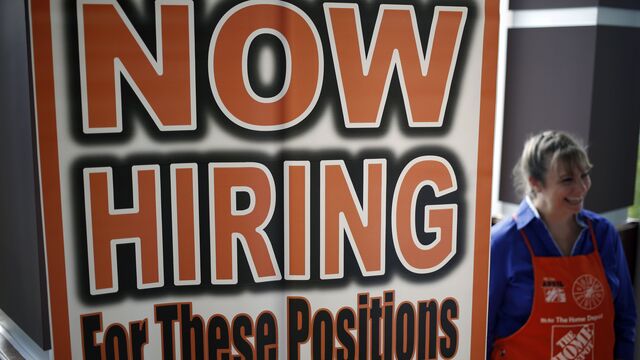 Want to receive this post in your inbox every morning? Sign up here
It's jobs day, crude gets clobbered, and it's presidential election weekend in France. Here are some of the things people in markets are talking about today.
Jobs day
At 8:30 a.m. Eastern Time the payrolls report for April will be released. Consensus expectations are for employers to have added 190,000 positions in the month, with a rise in the jobless rate to 4.6 percent. Analysts will also look to average hourly earnings, which are expected to grow 2.7 percent from a year earlier, and at retail employment — a sector that has had a difficult start to the year.
Crude crumble
West Texas Intermediate for June delivery dropped as much as $1.76 to $43.76 a barrel, before recovering some ground to trade at $45.63 by 5:19 a.m. Still, that amounts to a 7.5 percent fall this week. It wasn't just technical factors hastening the plunge: traders are losing faith in OPEC-led efforts to counteract the shale-fed glut through supply cuts. Some other commodities are also struggling, with iron ore down 12 percent this week, prompting worries of wider contagion issues. 
French election
On Sunday the second round of the French presidential election will be held, with all expectations for a comfortable victory for independent Emmanuel Macron, who is maintaining more than a 20-point lead in polls. Markets are heavily positioned against a surprise victory for far-right Marine Le Pen, with the spread between French and German bonds narrowing to a 2017 low. Bloomberg will be running a live blog as the results come in on Sunday. Also this weekend, there is an election in the German state of Schleswig-Holstein which is being seen as a test for German Chancellor Angela Merkel's party's renewed strength. Local elections held yesterday in the U.K. saw sweeping gains for Theresa May's Conservatives, and big losses for the opposition Labour Party. 
Markets drop
Overnight, the MSCI Asia Pacific excluding Japan Index fell 0.7 percent as the plunge in crude saw a gauge of energy companies drop the most in four months. In Europe, the Stoxx 600 Index was 0.1 percent lower by 5:55 a.m., trimming the week's gains to 1.2 percent. S&P 500 futures were broadly unchanged ahead of the payrolls release. 
Yellen, Fischer and Buffett
Federal Reserve Chair Janet Yellen will speak at 1:30 p.m. today at Brown University, with her deputy Stanley Fischer's earlier speech to the Hoover Institute at 11:30 a.m. expected to be more likely to address monetary policy. This weekend sees Berkshire Hathaway Inc.'s annual general meeting, with Warren Buffett saying ahead of the event that he had sold about a third of Berkshire's shares in International Business Machines Corp.
What we've been reading 
This is what's caught our eye over the last 24 hours.
An Asia edition of Five Things is launching soon. Sign up here to be among the first to start getting it delivered to your inbox.
Before it's here, it's on the Bloomberg Terminal.
LEARN MORE