politics
Senate GOP to Snub House Obamacare Repeal Bill and Write Its Own
By and
Recent changes to House measure complicate path in Senate

Murkowski says she hopes Senate GOP starts with 'clean slate'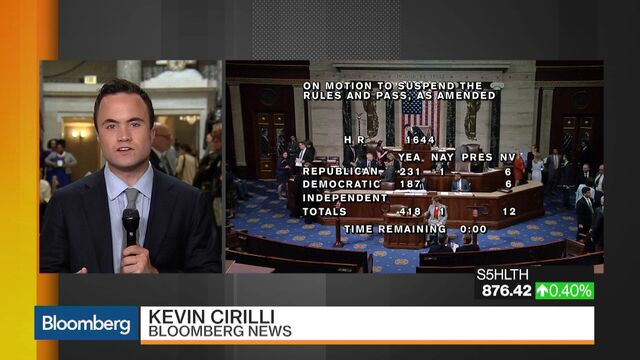 Several key Senate Republicans said they will set aside the narrowly passed House health-care bill and write their own version instead, a sign of how difficult it will be to deliver on seven years of promises to repeal Obamacare.

Lamar Alexander of Tennessee, who chairs the Senate health committee, and Roy Blunt of Missouri, a member of GOP leadership, both described the plan, even as the House was celebrating passing its repeal after weeks of back and forth. The decision will likely delay even further the prospect of any repeal bill reaching President Donald Trump's desk.
Hospital stocks dipped on the House vote, but quickly bounced back on the news the Senate would start over with its own version, with the BI North America Hospitals Index up 0.9 percent at 2:39 p.m. Hospitals fear the winding-down of Obamacare's Medicaid expansion will leave them with more customers who can't afford to pay.
Trump celebrated the House vote with a news conference at the White House, standing alongside dozens of Republican lawmakers.
"This has really brought the Republican Party together," he said.
But in the wake of the House's razor-thin 217-213 vote, the Senate made clear it was going in a different direction. Alaska's Lisa Murkowski, who has been very critical of the House bill, said Thursday she hopes they start with "a clean slate" in the Senate.
To get some kind of bill through his chamber, Majority Leader Mitch McConnell will need to unite moderate and conservative wings of the party that want to pull the measure in entirely different directions. The GOP controls the chamber 52-48, meaning he can lose no more than two Republicans and still pass it, given the united Democratic opposition.
The added sweeteners that helped win crucial GOP support to get the House bill through that chamber had made it even more difficult to get it through the Senate. One of the many obstacles with the House version is that it could run afoul of budget strictures governing the procedure under which the bill is being handled. 
'Manage Expectations'

Senate Finance Chairman Orrin Hatch of Utah said Republicans' goal will be to craft a measure that can get 51 votes.
"Coupled with the constraints imposed by the budget reconciliation process, we must manage expectations and remain focused on the art of the doable as we move forward," he said in a statement after the House vote Thursday.
In short, without changes, the House bill arrives in the Senate well short of the 50 votes, plus a tie-breaking vote by Vice President Mike Pence, that will be needed to pass. 
"We are not under any deadlines, so we are going to take our time," No. 2 Senate Republican John Cornyn of Texas said. "When we have 51 senators we will vote but not until then."
Coverage and Premiums
Several moderate Republicans have been demanding a more sweeping rewrite of the House bill to ensure more people get covered and premiums come down. 
A number of moderates were unhappy with a Congressional Budget Office estimate showing an earlier version of the House measure would have resulted in 24 million more people without insurance within a decade.
That wing is led by Bill Cassidy of Louisiana, a doctor who worked for decades in a charity hospital, and Collins, who together crafted a more moderate plan that kept the Affordable Care Act's taxes in place instead of repealing them.
Other senators who have expressed concerns about the House bill include Tom Cotton of Arkansas and Cory Gardner of Colorado, who both hail from states that have benefited from the Medicaid expansion.
Slower Pace
Despite intense pressure from Trump to push through a repeal bill, several senators said in interviews in recent weeks that the Senate should take its time.
But several House Republicans have warned the Senate not to tinker too much with the measure they passed Thursday.

Representative Dave Brat of Virginia, a member of the arch-conservative Freedom Caucus who only came on board when states were allowed to bring back higher prices for pre-existing conditions, warned there can't be any changes to the House bill in the Senate and keep conservatives on board.
"Not at all, none," he said of any Senate adjustments. "It's about time they got a dose of medicine. They better not change it one iota."
One advantage McConnell has is Senate rules, which allow fast-track consideration and an end to debate after a potentially all-night voting session on amendments.
But procedure isn't enough to trump math. Given all the differences and the GOP's slim majority, there's every possibility the bill simply bogs down and goes nowhere, or goes so far in a moderate direction that it loses conservatives in both chambers.
Vulnerable Republicans
While Republicans have a favorable Senate map in the 2018 midterms, Democrats are targeting Dean Heller of Nevada, Jeff Flake of Arizona and, increasingly, Bob Corker of Tennessee for possible pickups. 
Heller is by far the most vulnerable as the only incumbent running in a state Democrat Hillary Clinton won in last year's presidential election.
These senators could feel vulnerable to political attacks for supporting a repeal bill, given the new popularity of the Affordable Care Act.
Complicated Senate Rules
To get through the Senate with only a 50-vote margin, any health bill needs to be scrubbed by the Senate parliamentarian for portions that could violate the "Byrd Rule" -- a law that limits what can be passed in the Senate under the reconciliation mechanism.
While Pence -- or the presiding officer -- ultimately determines what complies with the rule, the long-standing Senate precedent is to defer to the parliamentarian's rulings.
For example, Democrats believe the provision that critically won over the conservative House Freedom Caucus likely violates the Byrd rule. The amendment would let states apply for waivers to allow insurers to charge higher premiums to people with pre-existing conditions if they haven't maintained continuous coverage, provided the state also has a high-risk pool.
That amendment also would let states ditch "essential health benefits" such as maternity and prescription drug coverage.
Pre-Existing Conditions
How the measure handles pre-existing conditions provisions will face scrutiny among Senate Republicans, even if they first clear the parliamentary hurdle.

Susan Collins of Maine, for one, said in a recent interview she wouldn't support allowing people with pre-existing conditions to be charged much more money. "I can't go for that," she said.
She said that she would instead consider more support for so-called invisible high-risk pools that act as essentially a reinsurance plan to bring costs down for everyone. The House bill has some funding that could be used for such a pool.
Reversing Medicaid Expansion
The House bill's $800 billion-plus cut to Medicaid goes too far for some Senate Republicans, particularly those from states that expanded Medicaid under the Affordable Care Act.
That includes Rob Portman of Ohio, Shelley Moore Capito of West Virginia and Murkowski. Each reiterated their objections to the House bill in interviews in the past week. 
It's unclear whether they will be satisfied by reallocating some of the spending in the bill, shrinking the tax cuts, or some combination, although senators have been meeting in small groups and discussing possible amendments.
Age Rating and Tax Credits
The House bill's move to let insurers charge people age 50-64 five times what they charge young people -- up from a 3-to-1 ratio now -- would dramatically increase their premiums, even as poorer people would see skimpier tax credits under the new system. 
The Congressional Budget Office predicted as much as a 759 percent increase in premiums for low-income seniors whose premiums are now capped as a percentage of their income.
Senator John Thune of South Dakota, a member of the GOP leadership, has been crafting a provision that would reduce the premium spike for these seniors -- an issue particularly important to senators in high-cost states like Murkowski's Alaska and in states with older populations like Capito's West Virginia and Collins's Maine.
Fuller Repeal
On the party's right flank, Senators Ted Cruz of Texas and Rand Paul of Kentucky will try to pull any measure closer to a full repeal of the Affordable Care Act while adding conservative planks. 
It's not clear how they can do so and still get enough votes to pass the final product.
Cruz said Wednesday he is talking with senators and the administration about ways to improve the bill and bring down premiums. One provision he hopes to add is an amendment allowing insurers to sell across state lines to boost competition. That's something Trump promised on the campaign trail but could run into procedural objections, as well as political resistance.
Paul, meanwhile, may be the toughest vote to get on the right. The libertarian-minded senator has criticized the House bill for continuing some tax credit payments to insurance companies.
— With assistance by Ari Natter, and Anna Edney
Before it's here, it's on the Bloomberg Terminal.
LEARN MORE