Russia Gives Putin Critic Navalny Passport, Won't Let Him Use It
By
Navalny thought he could get treatment abroad for damaged eye

Officials haven't lifted travel ban, activist's lawyer says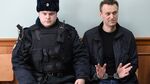 Russian opposition leader Alexey Navalny said he'd been issued with a passport that would let him seek treatment abroad for eye damage suffered when an assailant threw a chemical in his face. Russian officials don't see it that way.
The Federal Migration Service phoned to say he could collect his passport, Navalny wrote on his website Thursday, five years after he was barred from leaving Russia on embezzlement charges for which he was later convicted. Calling the decision a "truce for medical matters," he said it meant he "can travel for examination and treatment" to a specialist clinic after the attack left him with only 15 percent vision in his right eye.
WIthin hours, however, his lawyer Vadim Kobzev wrote on Twitter that a probation official had called to warn that Navalny shouldn't "dare to think of going abroad" because he's under a suspended five-year prison sentence following his 2013 conviction.
"They gave me a passport but it's forbidden to travel," Navalny wrote on Twitter. "Why did they give it to me then? To wrap fish?"
Navalny's an outspoken critic of President Vladimir Putin and is seeking to replace him in 2018 elections. He suffered chemical burns to his eye when a man threw green antiseptic liquid in his face in Moscow last week. Police have begun an investigation, Vedomosti daily reported Thursday. Navalny's supporters say they've already identified the attacker after video of the incident was broadcast on a Kremlin-friendly TV channel, and that the man belongs to a radical pro-Putin group that emerged in 2014 amid Russian-backed unrest in eastern Ukraine.
Conviction Appeal
A Russian appeals court on Wednesday upheld a February embezzlement conviction against Navalny in a re-trial of the original 2013 case, a ruling that could create a new obstacle for his ambitions to take part in the presidential elections. Navalny announced that he'd be a candidate late last year, while Russian officials have said he won't be allowed to run because of his criminal record. 
The case was retried after the European Court of Human Rights ruled that the first trial was unfair. Navalny's lawyer said that he would appeal the latest ruling to the ECHR as well, the Interfax news service reported.
Navalny said on his website on Tuesday that he'd lost 80 percent of vision in his eye as a result of the chemical burns, but that doctors hoped he'd recover with treatment.
"If it's not successful (alas, that's a possibility), then Russia will have a president with a stylish white eye," he wrote.
— With assistance by Ksenia Galouchko
Before it's here, it's on the Bloomberg Terminal.
LEARN MORE