Surging Debt Has Weakened Australia's Resilience, RBA's Lowe Says
By
Manageable downturn could turn into 'something more serious'

Central bank chief addresses economists in Brisbane speech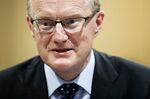 Australia's central bank chief had a reminder Thursday for borrowers that have helped send household debt to record levels: interest rates will one day rise.
Reserve Bank of Australia Governor Philip Lowe used a speech in Brisbane to reiterate his concerns about growth in private debt outpacing incomes. The risk is that heavily indebted households could slash their spending in response to any shock, meaning "an otherwise manageable downturn could be turned into something more serious," Lowe said.
"My overall assessment is that the recent increase in household debt relative to our incomes has made the economy less resilient to future shocks," the governor said in his speech. "Double-digit growth in debt owed by investors at a time of weak income growth cannot be strengthening the resilience of our economy."

Lowe has put financial stability at the forefront since taking the RBA's helm in September, fearful that surging house prices in Sydney and Melbourne and risky borrowing to finance purchases could set Australia up for a fall. He said in a Q&A after Thursday's address that he was probably the first RBA governor who would like to see bigger wage increases to allow people to more confidently manage their debt piles. 
Lowe also reminded Australians that the current record-low rate environment would not last forever.
"At some point, interest rates in Australia will increase," Lowe said. "To be clear, this is not a signal about the near-term outlook for interest rates in Australia but rather a reminder that over time we could expect interest rates to rise, not least because of global developments."
On the brighter side, the governor held out the prospect of a more balanced property market in time as the fruits of a multi-year construction boom increase supply.
Jobs Market
Lowe also reaffirmed Thursday that the central bank is watching the labor market closely, noting while unemployment has risen -- it currently stands at 5.9 percent -- employment growth has also increased and forward indicators suggest it will continue to do so.
"We will want to see a continuation of these trends if the overall growth in the economy is to pick up as we expect," he said. "Stronger growth in incomes would of course also help people deal with the high levels of debt and housing prices."
The RBA has run a record-low cash rate of 1.5 percent to help steer the economy away from mining and toward services and manufacturing industries as part of a broader economic transition. But Australians have responded by pumping cash into ever-rising Sydney and Melbourne property markets and the stocks of banks lending to them, leaving them vulnerable in a low-inflation environment that won't naturally erode debt.
Lifting interest rates to pop the bubble is too risky: it would threaten the recovery given slack in the labor market and already record-low wage growth.
Lowe praised regulatory measures aimed to discourage riskier lending as providing "a breather" until more housing supply comes on line and balances the market. He also backed transport investment in Sydney that makes new land more accessible. In the meantime, he said he would prefer to see debt rising no faster than income growth.
"Both from an individual and an economy-wide perspective, we need to pay attention to how the higher level of debt affects our resilience to future shocks," said Lowe.
Before it's here, it's on the Bloomberg Terminal.
LEARN MORE