Don't Hold Your Breath for Congress to Deal With Net Neutrality
By
Even FCC chief says it would be best for Congress to act

The climate's not ripe, a top Democratic senator suggests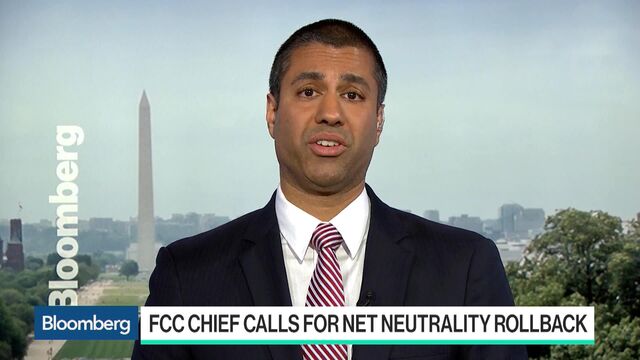 Federal Communications Commission Chairman Ajit Pai wants to gut Obama-era net neutrality rules, but even he says the matter is best left to someone else: the lawmakers in Congress.
Broadband companies AT&T Inc., Verizon Communications Inc. and Comcast Corp. support Pai's initiative but also want Congress -- rather than his agency -- to step in and end a debate that has raged for more than a decade.
But don't hold your breath.
"The climate just isn't right at the moment for a legislative solution," Senator Bill Nelson of Florida, the top Democrat on the Commerce Committee, said at a hearing on Wednesday. "There are too may folks from Chairman Pai to the stakeholders and the lawmakers that are dug in on a particular side of this issue."
That leaves Pai to go ahead with the plan he unveiled April 26 to dismantle rules that bar broadband providers from blocking or slowing some web traffic in favor other content -- their own or a paying customer's. The matter gets a preliminary vote May 18 at the FCC, leading to months of comments.
The rules passed the FCC in 2015 with only Democratic votes and withstood a court challenge. But the Republican victory in last fall's election led to Pai being in charge of the agency, and in a position to act on the rules he voted against while in the agency's minority. Democratic lawmakers and sympathetic policy groups have vowed to wage "a tsunami" of opposition to reversing the rules.
Previous story: Fast Lanes Fought by Silicon Valley Seen as Web Debate Opens
Before the presidential election, Democrats had little incentive to tinker with their own party's rule. Legislative proposals from Republicans never gained traction.
Democrats might now be tempted, Senator John Thune, the South Dakota Republican who leads the Commerce Committee, said at Wednesday's hearing.
Pai's move is "going to provide hopefully the necessary impetus for us to move forward with a legislative solution," Thune said. "The uncertainty created by constant lawsuits and changing administrations isn't something that's good for what has been a remarkable success story" of internet growth.
The FCC has grappled with rules to ensure an open internet for more than a decade and has been in and out of court after its decisions were challenged.
"The only way to bring resolution to the net neutrality debate once and for all is for Congress to consider and enact legislation," said FCC Commissioner Michael O'Rielly, who forms the agency's majority alongside Pai, in an April 26 speech. "There can be no lasting peace until that happens. Without a statutory resolution, each election could bring large swings in net neutrality positions."
Democrats Suspicious
House Democrats are suspicious of Republican offers to write new rules, said Representative Frank Pallone, the top Democrat on the Energy and Commerce Committee that oversees the FCC.
"Nobody on our side of the aisle believes any of this," Pallone said Wednesday at a policy forum held by the New America group that is fighting Pai's proposal. "You'd have to be a fool to think that they're going to actually legislate something that's going to be anywhere near as protective."
Pai met Wednesday with members of both parties on Capitol Hill.
"I applaud Chairman Pai for personally coming down to the committee to brief us," Representative Marsha Blackburn, the Tennessee Republican who leads the communications subcommittee, said in an emailed statement. "I remain hopeful that all parties involved can come together in a bipartisan fashion and work with one another on a solution that not only protects consumers but the future of the internet."
Proponents of the existing rule are way of congressional intervention.
"I don't think one side benefits from legislation or one side doesn't," said Chris Lewis, vice president of the Washington-based policy group Public Knowledge. "It all depends on what the legislation is. We've been arguing we have good rules now, there's no need to legislate, there's no need to repeal."
Verizon, AT&T and Comcast in statements said they welcomed Pai's initiative that would eliminate strong legal authority that treats broadband as a utility subject to extensive regulations, and ask whether to kill other parts of the 2015 rules. It faces a preliminary vote at the FCC on May 18.
Pai in an interview with Bloomberg TV on April 26 said that "the best solution would be for Congress to sit down and tell us what the rules of the road should be."
Quotes from this Article
Before it's here, it's on the Bloomberg Terminal.
LEARN MORE