politics
Lewandowski Exits Lobby Firm Amid Reports of Foreign Clients
By and
Former Trump campaign officials co-founded firm in January

Reports have said Avenue affiliate was selling Trump access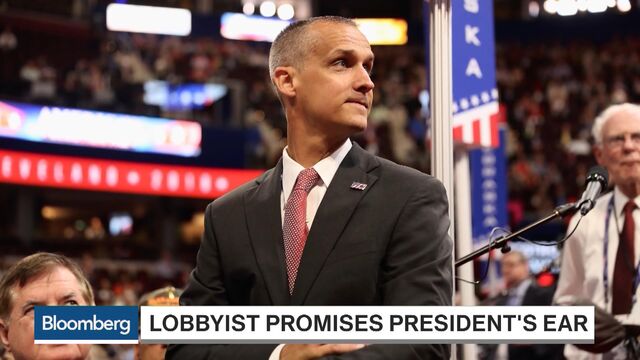 Corey Lewandowski, President Donald Trump's former campaign manager, is leaving Avenue Strategies amid a spate of negative publicity, saying he is concerned that he's lost control over the lobbying and political consulting firm he co-founded after the 2016 election.
Lewandowski said Thursday that his partner, Barry Bennett, and others among the firm's eight operatives have used his name without his authorization and sought business with foreign clients that he doesn't want.
"The most important thing is my reputation, and I've worked really hard in the face of adversity to try to be successful," Lewandowski said in an interview. His remarks came after a liberal ethics group alleged that he might have engaged in unregistered lobbying and selling access to the Oval Office -- allegations he denies.
Politico reported on April 28 that an affiliate of Avenue Strategies called Washington East West Political Strategies had been soliciting business in Eastern Europe and elsewhere by offering access to Trump, Vice President Mike Pence and other top administration officials. Lewandowski said Thursday that he hadn't authorized the creation of Washington East West, nor been informed about it.
He said he's willing to dissolve the partnership to distance himself from negative publicity and what he called conjecture that he's not following the rules.
"I know I have a giant target on my back. People want to see me fail," Lewandowski said.
'In the Headline'
Bennett, who served as an unpaid adviser to Trump's campaign, confirmed that they will end the partnership, and said he will continue the operation under the Avenue Strategies name. He didn't dispute Lewandowski's account, and said his partner's presence drew out-sized scrutiny to the firm.
"No matter how much work we do it's always going to be Lewandowski in the headline," Bennett said.
"I have a great relationship with these guys," Lewandowski said of the firm, which includes other operatives who worked on Trump's campaign. "This is not about personalities. This is about me being able to make all the decisions that are best for me and the people I'm trying to help."
Avenue Strategies quickly emerged as one of the highest-profile government-affairs outfits in Washington after Trump's victory -- chiefly because of Lewandowski. Trump fired him from the campaign manager's post four months before the election in one of several staff shakeups, but the pair have maintained a relationship. When he and Bennett started their new firm in January, Lewandowski told Bloomberg that his knowledge of Trump, who was a newcomer to Washington, would be key to their business.
No Favors
On Thursday, he said he has not sought to take advantage of his relationship with Trump, who has criticized lobbyists and declared his intention to "drain the swamp" in Washington.
"On the occasions I've had the opportunity to see him or speak to him, he's asked me do I need anything and every time I've said, 'No, I don't,'" Lewandowski said. "I'm not in the business of asking the president for favors. That's not my job or my role. I'm sure he has enough requests already for things and I don't ask him for anything."
He also said he has never spoken about any of his clients with Trump's closest advisers, including son-in-law Jared Kushner, or asked anyone in the administration to take a meeting with a client.
Lewandowski himself isn't a registered lobbyist, and he said he's not required to register. He said he only gives advice to clients on how to shape their message to Trump and his aides. But others within Avenue Strategies are registered lobbyists, "and those are all disclosed," he said. The federal law that governs domestic lobbying does not require firms to register for or disclose such services as planning strategies, developing messages or even making some general contacts with lawmakers.
Pennsylvania Avenue
Avenue Strategies set up shop on Pennsylvania Avenue less than a block from the White House -- with Lewandowski and Bennett as 50-50 partners, Lewandowski said. As of Thursday, the firm had four lobbying clients, including a Florida sanctuary for big cats, according to disclosures filed with the Senate Office of Public Records. The firm was also hired by Puerto Rico to help the island procure additional funds from Congress. The distressed island sought relief from its creditors in U.S. court on Wednesday.
A lesser known offshoot of the firm, Washington East West, has generated controversy and complaints. On Wednesday, Public Citizen, a government-ethics group, asked the U.S. Department of Justice to investigate whether Lewandowski should have registered as a foreign or domestic lobbyist, citing Politico's reporting on Washington East West.
"He developed very close ties to President Trump and leading officials in the Trump administration," the group's letter said. "His consulting firms are using that access as a selling point for soliciting and generating international and domestic business."
Lewandowski called those allegations "completely baseless."
Unaware of Offshoot
"I have not engaged in any type of activities that would warrant or require an investigation," he said.
He said he was unaware that Bennett and others were forming Washington East West. "It's an entity I'd never heard of," he said. "I've never seen anything they put out. I don't know who these individuals are and if people are selling my name on things I want to be a part of it. I want to understand what that is."
Lewandowski said the companies that hire him "simply want to understand how decisions are made inside the administration and I happen to understand at some level the president's thought process and the individuals who are around him, only because I spent so much time."
"When people ask me for specific requests -- 'Can you get me a meeting with the president?' -- I don't do that," Lewandowski said. "I don't lobby Capitol Hill."
Bennett said that Avenue Strategies owned the equity of Washington East West, but that Lewandowski didn't have a role in the offshoot. Bennett also said that Avenue Strategies dissolved Washington East West as of Wednesday.
Also Wednesday, Politico reported that Avenue Strategies had agreed to lobby for the U.S.-based oil company Citgo Petroleum Corp., which is owned by the government of Venezuela through its Petroleos de Venezuela SA. While the scope of that lobbying isn't clear, Citgo has raised concerns among U.S. senators because of its ties to the Russian government-owned oil giant, Rosneft PJSC.
PDVSA last year took a loan from Rosneft and pledged 49.9 percent of its Citgo shares as collateral, according to a Nov. 30 financing statement filed in Delaware. A bipartisan group of senators in April asked U.S. Treasury Secretary Steven Mnuchin to monitor the situation and expressed concern that "critical energy infrastructure" controlled by Citgo could wind up in Rosneft's hands.
Lewandowski said Thursday that Avenue Strategies has an agreement with a law firm that represents Citgo, not with Citgo itself. The oil company contributed $500,000 to Trump's inaugural fund, according to federal disclosures released last month.
(
Updates with additional detail and comments beginning in second paragraph.
)
Before it's here, it's on the Bloomberg Terminal.
LEARN MORE