Korea Vote a Sideshow for Traders Eyeing Trump And the North
By and
Markets shrugged off South's last three presidential elections

Won diverging from equities as investors focus on geopolitics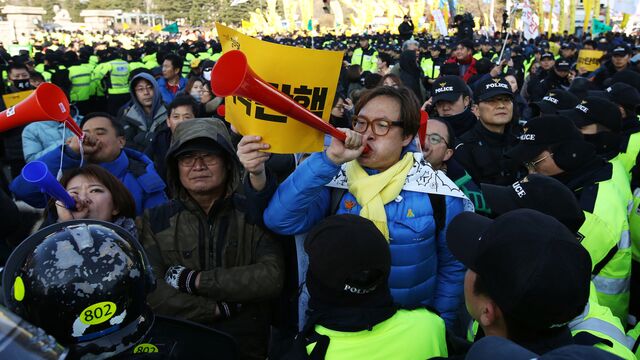 South Korea's presidential election should usher in a period of stability for the country's political scene -- but the same can't be said for its financial markets.
Korean assets are diverging as investors look beyond the ballot to longer-term concerns -- with the standoff between North Korea and Donald Trump still simmering, and Seoul caught in between. Benchmark bond yields are testing a 15-month high reached in March and the won posted the worst performance among Asian currencies last month. Stocks, however, are benefiting from the reflation trade, with the Kospi index surging to a record.
In the past, traders have mostly treated Korean elections with indifference: the immediate reaction in the Kospi was modest following the past three presidential polls. The election of former political prisoner Kim Dae-jung in 1997, though, was colored by the Asian financial crisis, triggering a drop of more than 5 percent as South Korea's economic woes overwhelmed the vote:

This time, it's not the economy that's occupying traders, but geopolitics.
While turmoil has gripped the Korean peninsula for generations, and markets are used to shrugging off saber ratting from the nuclear-armed North, the situation is different this time.
For more on security tensions surrounding North Korea, read this.
"As an investor, it's not really a good time to pour funds into Korea," said Jun Kato, who helps manage about $8.9 billion at Shinkin Asset Management Co. in Tokyo, which is trimming positions in South Korean assets. "The issue surrounding North Korea -- it's rather up to how China and the U.S. deal with it and so whoever wins in the election it doesn't give much relief."
Though equities have been rallying, a peek under the hood reveals some unease.
Markets have been "complacent" to the risk posed by North Korea, said Jean-Charles Sambor, deputy head of emerging-market fixed income at BNP Paribas Investment Partners in London.

"In the past, geopolitical tensions proved to be only noise," Sambor said. "However, this time it might be different with a potential risk of escalation with the U.S. and a likely change in political relations between South and North Korea."
Valuations, along with an upturn in global trade, still make South Korean stocks a buy for some foreign investors -- read more here.
Moon Jae-in, the son of North Korean refugees, is the frontrunner in the May 9 vote, which will restore leadership to Asia's fourth-largest economy following the arrest of former president Park Geun-hye amid a corruption probe. Moon's election may spur some rapprochement between the two Koreas, which could be reflected in the South's credit risk, said Sambor.

Former software tycoon Ahn Cheol-soo of the People's Party is running second in opinion polls, followed at a distant third by Hong Joon-pyo of the Liberty Korea Party, the latest incarnation of the conservative wing that backed the ousted Park.
A lack of differentiation between the two leading candidates' policies has also kept the election off most investors' radars. Both Moon and Ahn want to overhaul the family-run conglomerates known as chaebol that helped transform South Korea's economy following the Korean War. They also want to revive consumption and curb household debt, which reached a record 1,344.3 trillion won ($1.2 trillion) at the end of 2016.
Read more: Samsung, Lotte and the Problems With Chaebols: QuickTake Q&A
"Usually, there are expectations over new leadership prior to the presidential election, particularly over whether he or she would bring new fiscal and stimulative policies to prop up the economy," said Shin Hong-sup, head of fixed income at Truston Asset Management in Seoul. "Candidates in this year's election appear to have common interests in such policies."

Scotiabank and Oversea-Chinese Banking Corp. see the projected shift away from nine years of conservative rule bolstering Korean assets beaten down by the geopolitical toing and froing -- at least temporarily. The won slipped 1.7 percent versus the dollar last month, but remains more than 6 percent above a nadir reached in December. Ten-year government debt yields 2.21 percent, above the 1.85 percent average over the past year.
"Markets seem to regard Moon's likely victory to be market positive," Barnabas Gan, an economist at OCBC in Singapore, wrote in a note May 3.
But for Kim Hyun-su, who helps oversee 14 trillion won of assets as a senior fund manager at IBK Asset Management in Seoul, the election outcome is largely moot.
The U.S. House of Representatives passed legislation Thursday that would expand sanctions against North Korea. Trump told Bloomberg News earlier in the week that he would be open to meeting with the country's leader, Kim Jong Un, "under the right circumstances."
"Whoever becomes the next president, the North Korean issue is out of South Korea's hands," said Kim at IBK Asset Management. "There's not much South Korea can do alone -- this issue involves other countries like the U.S. and China."
— With assistance by Yumi Teso, Lilian Karunungan, Hannah Dormido, and Adrian Leung
Before it's here, it's on the Bloomberg Terminal.
LEARN MORE