Duterte Discusses North Korea With Xi 'At the Behest' of Trump
By
Philippine leader claims Trump asked him to inquire about Kim

Duterte cites Chinese role in promoting Korean Peninsula peace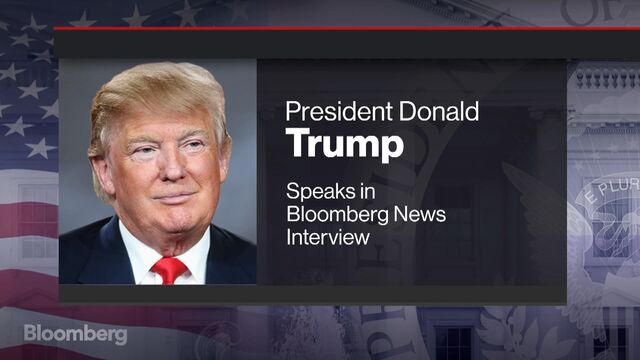 Philippine President Rodrigo Duterte said he called his Chinese counterpart Xi Jinping on Wednesday "at the behest" of U.S. President Donald Trump to discuss China's role in promoting peace on the Korean peninsula.
In a televised speech from Davao City on Thursday, Duterte said Trump, in a call at the weekend, asked whether Xi "could do something about the situation regarding Kim Jong Un," the North Korean leader.
"I am calling you at the behest of the president of the United States, President Trump," Duterte claimed to have told Xi on May 3. "We all agreed in Asean and even President Trump that you can do something," Duterte said, recalling his conversation with the Chinese leader, whose intervention on the Korean peninsula he believes could make a difference.
The Pentagon will attempt a new test by the end of this month of whether it can intercept an intercontinental ballistic missile like the ones North Korea is seeking to develop, Rear Admiral Jon Hill, deputy director of the U.S. Missile Defense Agency, has said. The attempt to intercept a dummy target will take on symbolic importance whether it succeeds or fails, as North Korea ramps up its ballistic missile development and Trump vows to block Kim's regime from developing a nuclear weapon that could reach the U.S.
For more politics coverage, sign up for the Bloomberg Politics Balance of Power newsletter
Trump Call
The 10-member Association of Southeast Asian Nations, which has enjoyed an upswing in relations with China for some time, ended a summit in Manila at the weekend with a statement noting "the improving cooperation between Asean and China" in the South China Sea. The waterway has been a flash-point in a broader tussle for regional influence between China and the U.S. in Asia.
On April 29, Trump during a phone call with Duterte expressed his commitment to the Philippine-U.S. alliance and his "interest in developing a warm, working relationship" with Duterte, presidential spokesman Ernesto Abella said on Sunday.
Trump, who invited the Philippine leader to visit the White House, hasn't called back to inquire about the conversation with Xi, Duterte said.
Before it's here, it's on the Bloomberg Terminal.
LEARN MORE