APEC Chief Says Asia Trade Pact Wouldn't Be 'Very High Level'
By and
Finishing RCEP would send signal on trade, Bollard says

APEC secretariat chief speaks in Bloomberg TV interview
Talks on an Asia trade pact are unlikely to lead to a top-notch deal, according to Asia-Pacific Economic Cooperation secretariat chief Alan Bollard, even if wrapping it up quickly would send a message that nations still prioritize free trade.
The 16-nation Regional Comprehensive Economic Partnership being championed by China may be signed this year, "which would be a step forward but it's not going to be a very high level agreement," Bollard said Thursday in a Bloomberg Television interview.
"It's been a long, hard negotiation but I think there's quite a bit of argument that it would be good to get a signature on something by the end of the year, if only a not-final-intentions signature," he said.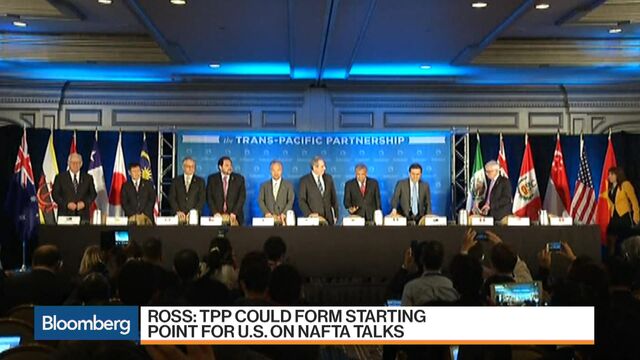 The RCEP has taken on added importance after U.S. President Donald Trump withdrew the U.S. from a separate Pacific deal in one of his first acts in office. His actions threw the future of the 12-nation Trans-Pacific Partnership -- a deal that did not include China -- into doubt, and his protectionist rhetoric more broadly has sparked concern about the outlook for globalization and free trade.
The RCEP is more of a traditional trade pact than the TPP -- which covered issues including intellectual property and state-owned enterprises. Even so, it has been bogged down by disputes over issues including the free movement of highly-skilled information technology workers within countries in the pact, an Indian request that countries in Southeast Asia have balked at.
Singapore's Trade Minister Lim Hng Kiang said on Thursday in a speech the RCEP talks are progressing well but "can move faster," a signal that differences remain among nations involved.
Bollard said a meeting in Vietnam of APEC trade ministers later in May would be a chance for member nations to promote free trade and regional economic integration. There's still a question mark over whether Trump's nominee for U.S. Trade Representative, Robert Lighthizer, will be confirmed in time to attend the meeting.
Asked in the interview if he was now less worried about the prospect for trade wars then when Trump took office, Bollard said "I think we've still got to wait and see what really happens."
"The full U.S. new administration policy is yet to be articulated. We don't yet have a U.S. trade representative appointed," he said. "There's some tough talk obviously going on but we hope there won't be too much damage out of this."
— With assistance by Rosalind Mathieson
Before it's here, it's on the Bloomberg Terminal.
LEARN MORE