quicktake
Will 'Made in China' Threaten Boeing and Airbus?: QuickTake Q&A
Bloomberg News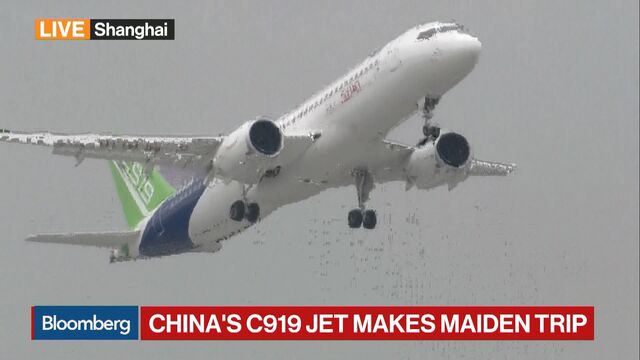 November 2015 was a big month for Chinese aviation. That was when the state plane manufacturer known as Comac delivered its first passenger aircraft, a 90-seat jet called the ARJ21. May 2017 may prove bigger still, after Comac completed its first test flight of a larger plane, the C919. The new jet aims to take on Boeing Co. and Airbus SE. in an industry segment that's forecast to generate sales in China alone of more than half a trillion dollars over the next 20 years.
1. What do we know about the new plane?
The C919 will seat 158 to 174 people, six abreast, and is intended to compete with the Boeing 737 and Airbus A320 families of planes in the so-called single-aisle market. Comac describes its venture as "the flower of modern industry." The C919 made its maiden test flight on May 5, an 80-minute trip out of Shanghai's Pudong International Airport.

2. When will this flower bloom?
If all goes according to plan, the C919 could be in service as soon as 2019. The ARJ21 took six years to go from first flight to commercial operation, but Comac executives say the C919 will "definitely" get there faster than that.
3. Should Boeing and Airbus be worried?
It's too early to say. But it seems credible that a China-based competitor could take a significant chunk of business, since the Chinese market is on course to become the world's largest as measured by aircraft and passengers. China will need 6,810 planes, worth more than $1 trillion, through 2035, according to Boeing estimates. And the country is forecast to overtake the U.S. as the largest air travel market in terms of passengers around 2024.
4. Where does the C919 fit in?
Single-aisle planes are already the No. 1 segment of the Chinese market, but what's about to come is breathtaking: Planes in that category are forecast to generate about $535 billion, or 75 percent, of passenger jet sales in China over the next two decades, Boeing says. Currently, the single-aisle category is dominated by Boeing and Airbus.

5. Has anyone bought the C919 yet?
Comac, or Commercial Aircraft Corp. of China Ltd., had orders and commitments from 23 buyers for 570 aircraft as of November 2016. Other than the leasing unit of General Electric Co., all are from local companies. China Eastern Airlines Corp., the nation's second-largest airline, will be the first carrier to take delivery. Terms haven't yet been disclosed.
6. Will the C919 fly outside China?
That's the plan. China's aviation officials are pushing for bilateral agreements on airworthiness with U.S. and European regulators by the end of 2017 to pave the way for domestically produced aircraft such as the C919 to be flown in those markets.
7. So is this bad news for U.S. and European aviation?
Hardly. While aircraft makers may lose market share, suppliers stand to gain. The C919 counts as many as 16 global corporations as suppliers, including GE and Honeywell International Inc.
8. Why is China so late to the party?
China has tried developing passenger jets; its first efforts began in 1970. There was the Y-10, which failed to go anywhere after test flights in the 1980s. Then there was the MD-82, a joint development that collapsed after Boeing acquired China's partner, McDonnell Douglas. There may be more impetus for a breakthrough now, given the burgeoning domestic market and China's ambition to upgrade its economy to high-level manufacturing, which hinges on projects such as aircraft.
The Reference Shelf
— With assistance by Dong Lyu
Before it's here, it's on the Bloomberg Terminal.
LEARN MORE