Tillerson Seeks to Lift Damaged Morale at State With a Pep Talk
By
He urges staff to jettison Cold War thinking on world affairs

'We're all on this boat' together, he tells department staff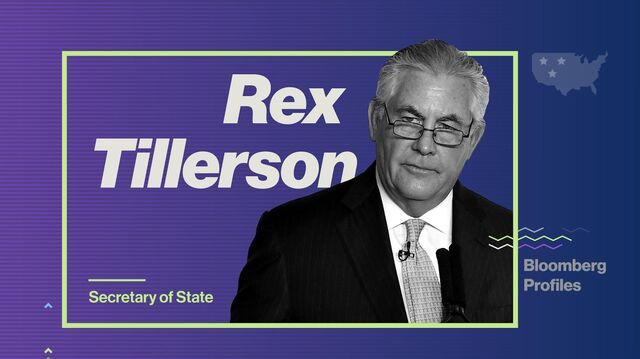 Secretary of State Rex Tillerson told his department's 75,000 employees that the U.S. must leave behind Cold War-era thinking during an appearance aimed at dispelling anxiety about his intentions amid planned budget cuts and a slow pace in hiring for top positions.
"As things have changed we have not really fully adapted," Tillerson said in a 30-minute address at the department in Washington that was beamed to U.S. diplomatic outposts worldwide. "I guess what I'm inviting all of you to do is to approach this effort that we're going to undertake with no constraints to your thinking, with none."
Tillerson's address, his first to the department since remarks he made after taking office in February, may have been intended at dispelling talk that he has isolated himself from staff and is slow-walking decisions on filling senior positions. Career officers have complained of a lack of direction as the Trump administration prepares cuts in the State Department's funding.
The department plans to cut 2,300 U.S. diplomats and civil servants -- about 9 percent of the Americans in its workforce worldwide -- with most coming through attrition and the rest through buyouts, according to people familiar with the matter.
China Talks
The former Exxon Mobil Corp. chief executive officer spoke confidently on the stage of the auditorium at the department, moving from one world trouble spot to another as he set out his early priorities: the threat from North Korea's nuclear weapons program, the fight against Islamic State terrorists, and relations with Russia and China. He disclosed the department plans to elevate discussions with China to a higher level on key issues.
Tillerson said he's starting a "listening tour" to hear the concerns of State Department employees. Staff and their family members will receive an online survey this week to get a sense of what they need to do their jobs.
"We're all on this boat, on this voyage -- I'm not going to call it a cruise because it may not be that much fun -- but we're all on this ship, on this voyage together," Tillerson said. "When this is all done you're going to have a much more satisfying, fulfilling career. You're going to feel better about what you're doing and the impact of what you're doing."
Attempting to address concerns that he's isolated and not relying on the department's career experts, Tillerson thanked the staff for sending him briefing papers and keeping him informed.
"I do read all these memos that come to me," Tillerson said. "I'm not a fast reader but they are extraordinarily helpful to me."
Before it's here, it's on the Bloomberg Terminal.
LEARN MORE