The Revolution in Venezuela Won't be Televised, Except on the Internet
TV is mostly silent about deadly protests. So people are turning to Instagram, Twitter, Snapchat, and Facebook.
By and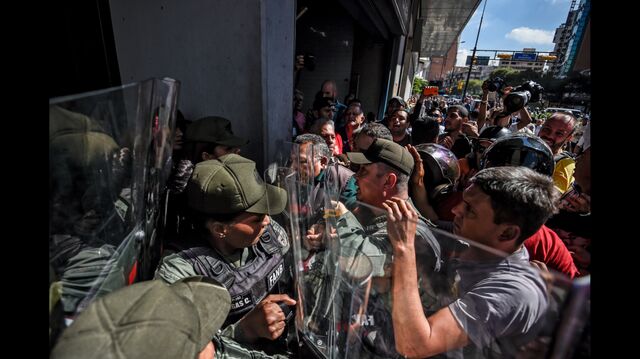 Venezuela's government is broadcasting an alternate reality to its citizens' mobile phones.
Television is mostly silent about deadly protests as President Nicolas Maduro pushes for a new constitution. Instead, people are turning to visual forms of social media barely available to Venezuelans three years ago—Instagram and Snapchat stories, live videos on Facebook and Twitter, and WhatsApp chat rooms—to transmit and consume information.
The opposition and government compete to shape the national narrative there. Maduro's administration sends a stream of anodyne images as protesters send out up-to-the-minute updates of arrests and violence.
For example, dueling May 1 marches in Caracas drew thousands of supporters on both sides to marches. While the opposition posted images of national guard troops firing tear-gas canisters at protesters, pro-government accounts showed of smiling supporters dressed in red at a peaceful rally.



While mobile-phone use has remained mostly flat over the past three years, Internet usage has risen, with the penetration rate among Venezuelans climbing from about 44 percent at the start of 2014 to almost 62 percent in 2016, according to the latest data from telecommunications regulator Conatel.
"There has been an increase in the number of people using smart phones, because they know there is no information on the regular television and radio channels in conventional media," said Andres Canizalez, a communications professor at the Andres Bello University in Caracas. "Opposition politicians used to complain that traditional media didn't give them any space, but they understand the change that's occurring with the young people now and have turned toward social media to get their message out."
QuickTake Read More on Venezuela's Revolution
Still, about 30 percent of the population does not have access to either an Internet connection or smart phone and relies on the government and over-the-air television stations for information, he said. That's why the government was so quick to shut down or censor television stations that broadcast coverage it didn't like, Canizalez said.
While Maduro ordered an investigation into Spain's Telefonica SA's local Movistar unit last month, claiming it helped opponents deliver text messages promoting protests, Venezuela's government is for now competing on social networks instead of shutting them down.
"To counteract this situation of hyperconnectivity, the government has created its own digital militias, because it knows people are looking for information in other places," Canizalez said. "But many people only have access to simply text messaging, and that's why you've seen the government starting to try and control that."
Before it's here, it's on the Bloomberg Terminal.
LEARN MORE