Square Surges to Record on Optimism for New Services
By
Company lifts forecasts after bigger merchants sign up

Revenue rose 39 percent to $204 million in first quarter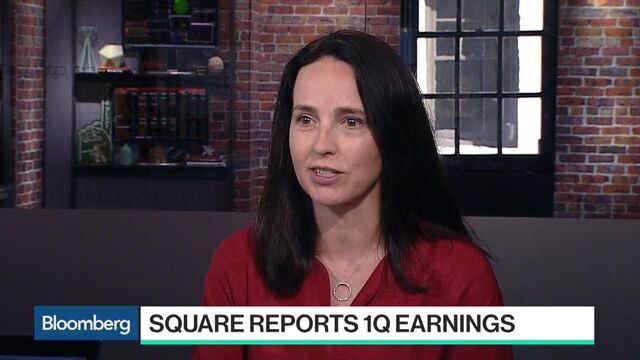 Square Inc. shares jumped to a record after reporting results that beat analysts' expectations, impressing investors with its ability to woo bigger sellers and offer newer software products that help merchants manage their businesses.
Revenue in the first quarter rose 39 percent as more businesses signed on for payments processing, loans and software to help manage inventory. Square raised full-year sales and profit forecasts, sending the stock up as much as 12 percent to $20.42, a new intraday high. The shares have more than doubled from a record low in June.
Mark Palmer, an analyst at BTIG, called the results "an emphatic beat-and-raise" that should "shake out some more of its remaining doubters."
Not long ago, investors questioned Square's prospects as a provider of credit card readers for food trucks amid rising competition from PayPal Holdings Inc. and First Data Corp. But the company, run by Twitter Inc. Chief Executive Officer Jack Dorsey, has plowed ahead with international expansion, partnerships and acquisitions.
Square is targeting larger merchants with a growing suite of more-profitable services, including loans and software that manage inventory and analyze sales. In the fourth quarter of 2016, those newer offerings made up a quarter of revenue. It was even higher by the first quarter, Chief Financial Officer Sarah Friar said, although she declined to share a specific percentage.
"What continues to make me pleased with our results is growth in large businesses," Friar said. "That ongoing shift is good to see because I think those folks are not net new to the payments world, they've probably had an alternate supplier, but now they want to be on the latest technology and they value all we do."
Square said revenue from larger sellers -- those with at least $125,000 in annualized gross payment volume -- grew 44 percent in the first quarter from a year earlier.
In March, the company launched services in the U.K., and it has signed partnerships and bought companies in the food-delivery business to get more restaurants as customers. Square also introduced a set of business tools for retailers, which accounted for 20 percent of the payments volume it processed last year.

Adjusted revenue was $204 million in the first quarter, beating analysts' average estimate and its own forecast. Adjusted earnings before interest, tax, depreciation and amortization were $27 million, or 5 cents a share in the period, compared with estimates for $17.6 million, or 2 cents a share.
For the full year, Square predicted adjusted revenue of as much as $910 million, up from a previous forecast of as much as $900 million. Analysts had estimated $901.5 million. Adjusted Ebitda in 2017 will be as much as $120 million, also ahead of the company's earlier projection and analysts' estimates
Before it's here, it's on the Bloomberg Terminal.
LEARN MORE