World's Best Trade According to Bill Gross: Short Credit Spreads
By
High-yield bond spreads have become too tight, Gross says

Janus Capital manager says growth forecasts are too optimistic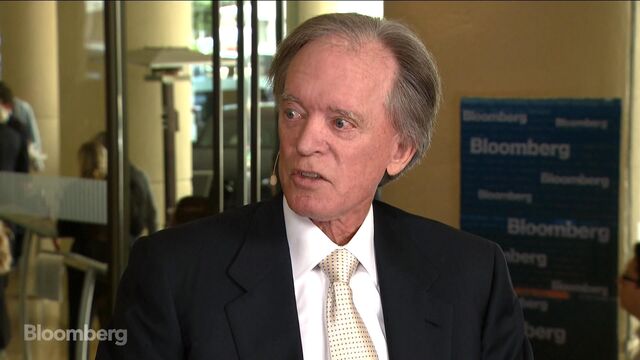 The best trade out there right now? According to bond veteran Bill Gross, it's shorting credit spreads.
Gross, who manages the $2 billion Janus Global Unconstrained Bond Fund, is betting that high-yield bond spreads have gotten too tight and can only widen after reaching an almost three-year low in March. The so-called Trump trade, which has buoyed risk assets, will gradually unwind as markets are overpriced because investors are too optimistic about the president's ability to boost U.S. economic growth to 3 percent.

The trade "makes all the sense in the world," Gross said in an interview with Bloomberg TV at the Milken Institute Global Conference in Beverly Hills, California, on Wednesday. "There's very little danger in terms of further compression, unless we move to that three percent nirvana that markets seem to be expecting," he said. "I don't expect that."
The bond manager is using corporate credit-default swap indexes such as the Markit CDX North American High Yield Index for his trade. The credit-default swaps benchmark used to hedge against losses or to speculate on creditworthiness climbed 0.8 basis point to about 324 basis points on Wednesday, after hitting a near three-year low in early March, according to prices compiled by Bloomberg.

"Volatility is very, very low," said Gross, 73. "So what does Gross do? Basically you temper your attitude toward what typically is a profitable structural trade because the price is definitely not right in any category at the moment."
The Milken conference ended Wednesday, convening 4,000 power players to opine on topics from breaking up the big banks to chasing yields. Money managers are seeking to navigate stubbornly placid markets, which crimps their ability to turn profits.
Gross, who gave his own fund performance an A-, said the U.S. Federal Open Market Committee's decision to leave interest rates unchanged after a disappointing first quarter was "milquetoast" and that he concurs with views expressed by futures markets -- there will be another rate hike this year and possibly another next January.
"I have a sense that the market has it more right than the Fed," Gross said.
— With assistance by Claire Boston, Sridhar Natarajan, John Gittelsohn, and Erik Schatzker
Before it's here, it's on the Bloomberg Terminal.
LEARN MORE