markets
Here's What Wall Street Is Saying About Apple's Earnings
By and
Focus is now on the iPhone in the second half of 2017

Shares hit a record yesterday before falling after hours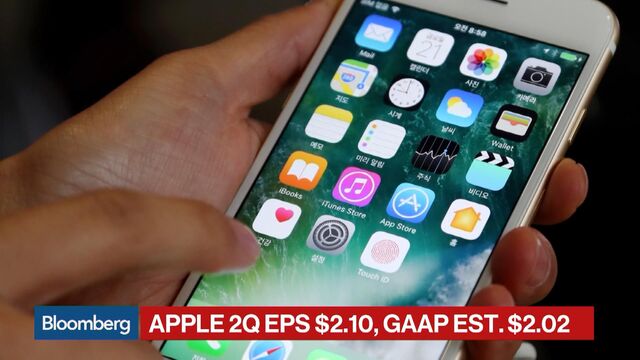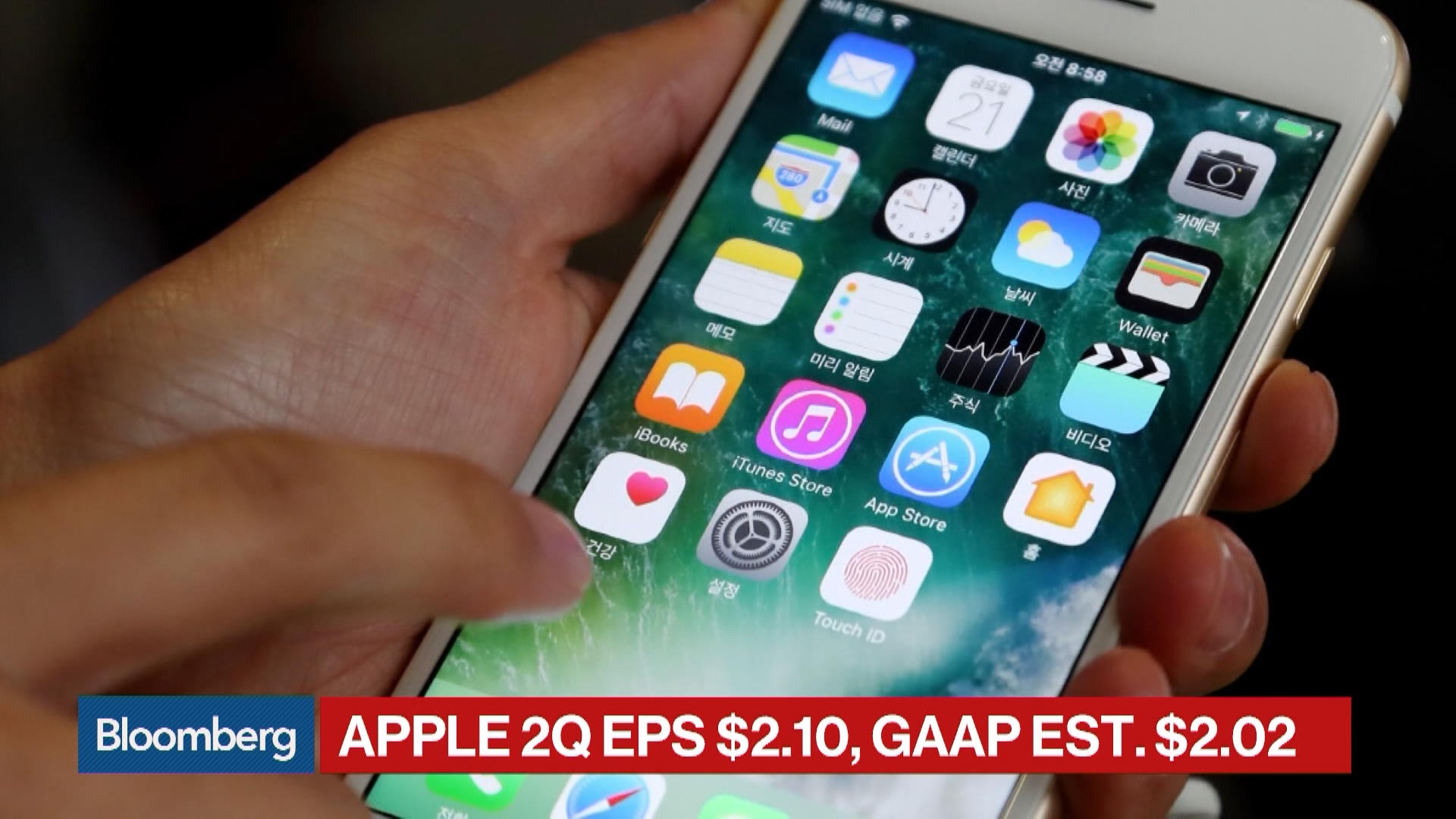 Long a darling of Wall Street -- only one of 49 analysts that track the stock have a sell rating -- Apple Inc.'s latest report raised concerns about falling sales of its flagship product and business in China.
That's got researchers eyeing the second half of 2017 as perhaps the most important in Apple's history. The stock has 39 buys, 9 holds to go with the solitary sell, with an average 12-month price target of $158.07, according to data compiled by Bloomberg. Shares fell 1.7 percent to $145.04 as of 9:56 a.m. in New York.
Here's a roundup of what different banks are saying:
Bank of America Corp.
Wamsi Mohan and team said shares could come under pressure due to concerns such as slowing services growth and the Chinese market looking weak, but they still rate the stock a buy and have a price target of $155 as it could see further upside from "continued long-term opportunity in China, potential share gains from the release of a lower-end iPhone, strength in the upcoming iPhone 8 cycle, optionality in cash balance, revenue sources like Apple Pay, Apple Watch, home/health kit, etc., that will take time to mature."
RBC Capital Markets LLC
Amit Daryanani told clients RBC is holding its price target at $157 and awaiting the second half of the year. "Apple broadly reported March-quarter numbers that were in-line with expectations, especially given concerns around gross-margins, and provided a capital allocation that bracketed buy-side expectations. All this puts the focus (rightfully) on the next iPhone launch that should happen in mid-to-late September."
Morgan Stanley
Katy Huberty and her team reiterated their call for an upcoming iPhone super cycle, and any retreat in the stock is a buying opportunity. "We expect investors to buy any pullback in share price tomorrow given the bullish tone and better-than-expected margin guidance...near-term, we see pent-up demand heading into a significant form factor change that is likely to accelerate iPhone unit growth, led by China. Furthermore, accelerated services growth, tax reform/cash repatriation, and increased appetite for M&A are catalysts that can help sustainably re-rate shares." They have a price target of $161.
Credit Suisse Group AG
Kulbinder Garcha and team called the results "OK" and reminded clients that the second half of the year will be far more important. "We remain cautious on near-term units because of the upcoming iPhone 8 cycle. Our installed base analysis suggests that strong growth of the installed base in the past three years will be a key driver of future growth in 2018, driven by an iPhone 8 super cycle." They have a target price of $170.

Nomura Holdings Inc.
Jeffrey Kvaal and his team argued that slowing iPhone growth for the quarter might actually be a good thing. "We expect iPhone sales lost from the fiscal third quarter to appear during the iPhone 8 launch in the fiscal fourth quarter or fiscal first quarter of 2018. The delay might even be beneficial should deferring users ultimately purchase higher average selling price phones." They have a price target of $165.
Deutsche Bank AG
Sherri Scribner and team weren't as optimistic as others, although they did raise their price target from $125 to $130. "While there wasn't much in the quarter to change viewpoints, trends in China continue to worsen and we remain concerned about iPhone affordability in emerging markets. We believe investors will mostly maintain positions following the print and continue to focus on the next iPhone refresh. Given the recent run in the shares, we see limited upside from current levels and maintain our Hold."
Macquarie Capital USA Inc.
Benjamin Schachter and team called services a bright spot and reiterated their outperform call with price target of $160. "Management reiterated that it expects to double Services revenue by 2020. And while there was overall weakness in China, management stated that it saw 'extremely strong Services growth in China.' Management also highlighted that it is seeing similar trends around the world in that users start spending at a certain level on Services and then ramp up."
Mizuho Financial Group Inc.
Abhey Lamba and team raised their price target to $160 from $150 on hopes of a super cycle later in 2017. "We believe the print/guidance was in-line with investor expectations. We continue to see the potential of a significant upgrade cycle later this year and believe upside to estimates can materialize in the back half of the year."
Cowen Group Inc.
Timothy Arcuri and team bumped up their price target and reminded clients that when the firm upgraded the stock last year, people were far more skeptical than they are now. "While it is no longer anywhere near the contrarian call it was a year ago, we continue to like the stock and raise our target to $160."
Before it's here, it's on the Bloomberg Terminal.
LEARN MORE