Davis Threatens to Walk Away From Brexit Talks if U.K. Provoked
By and
Dimisses report from Juncker-May dinner as 'gossip and spin'

May says EU's Juncker learning she can be 'bloody difficult'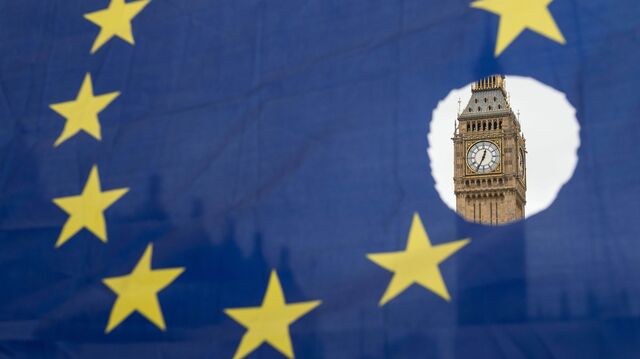 Follow @Brexit for all the latest news, and sign up to our daily Brexit Bulletin newsletter.
Brexit Secretary David Davis flatly rejected a reported bill of as much as 100 billion euros ($109 billion) from the European Union, and threatened to walk away from the bloc without a deal if provoked.
Britain would have no obligation to pay a Brexit bill if it leaves the EU without an accord, Davis said on BBC Radio 4's "Today" program on Wednesday. While "nobody is looking for that outcome" since the goal is to reach an agreement with the EU, "we have to maintain the alternative option" of walking away, he said.

The threat illustrates the escalating rhetoric between London and Brussels before talks to leave the bloc even begin. Prime Minister Theresa May vowed on Tuesday she wouldn't be pushed about in the talks, saying that European Commission President Jean-Claude Juncker is learning she can be "bloody difficult." Those comments were prompted by a report with alleged details of a dinner meeting between the leaders after which Juncker was said to be shocked by her approach to negotiating Brexit.
While the deteriorating tone on both sides may not bode well for the coming negotiations, the clash won't necessarily hurt May's chances as she seeks re-election on June 8 in a campaign defined by Brexit. It could help May's Tories convince voters the U.K. needs what she calls her "strong and stable leadership" for the talks. May argues her main rival for power, opposition Labour party leader Jeremy Corbyn, would be too "weak" to succeed at the negotiating table.
"I don't suppose the British public at large has been terribly impressed by the operations of the last week, but I think that they will see very, very clearly they need a good, tough negotiator, and that's what Theresa May is," Davis told Radio 4.
Brexit Bill
The latest flashpoint was a Financial Times report that said EU negotiators had revised their initial calculations upward from about 60 billion euros. The FT said that according to its calculations, the new net figure for the bill would be as much as 75 billion euros, once Britain's share of EU spending and repaid loans were accounted for, giving a gross 100 billion euros. The newspaper's previous calculations had given a net figure of 40 billion euros to 60 billion euros, in line with the EU's estimate.
"We'll not be paying 100 billion," Davis told ITV. "We've never seen a number" from the EU, Davis said. He refused to specify how much Britain is prepared to pay, saying "what we've got to do is discuss in detail what the rights and obligations are."
Davis also rejected as "gossip and spin" the weekend report in the German newspaper Frankfurter Allgemeine Sonntagszeitung that Juncker had expressed shock and skepticism at May's approach to negotiating Brexit after a dinner meeting last week.
The dinner at May's Downing Street residence was "constructive," said Davis, who was one of 10 people in the room. "There were some disagreements," he said, but the atmosphere was "absolutely not" hostile.
May won a measure of support from several European government officials, who distanced themselves from Juncker's apparent skepticism about the chances of a Brexit deal. Leaked details of the dinner are "not helpful," Irish government chief whip Regina Doherty said on Tuesday. The comments set the "wrong tone" as Ireland wants a "vibrant" trade relationship with the U.K. after Brexit in 2019, she said in an RTE radio interview.
"What we've seen recently is that at times these negotiations are going to be tough," May told BBC television in an interview Tuesday. "During the Conservative Party leadership campaign, I was described by one of my colleagues as a bloody difficult woman. And I said at the time the next person to find that out will be Jean-Claude Juncker."
— With assistance by Charlotte Ryan, Jonathan Stearns, and Birgit Jennen
Before it's here, it's on the Bloomberg Terminal.
LEARN MORE