Weight Watchers Surges After Oprah Effect Helps Fuel Profit
By
Profit of 16 cents compared with projections for a 4-cent loss

Company raises 2017 forecast after 'strong start to year'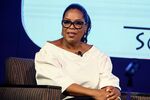 Weight Watchers International Inc. surged after the diet company backed by Oprah Winfrey posted an unexpected profit and added subscribers for the fifth straight quarter.
The shares jumped as much as 19 percent to $25.20 Wednesday in New York, the highest intraday price for the stock since December 2015. They had already climbed 85 percent this year through Tuesday's close.
Weight Watchers has been mounting a comeback since Winfrey took a stake in the company and agreed to pitch the brand in October 2015. The company ended the first quarter with 3.6 million subscribers, up 16 percent from a year earlier. The gains also prompted the company to boost its full-year earnings forecast.
In addition to the marketing boost from Winfrey, an improved weight-loss program and technology investments are helping retain customers, said Nick Hotchkin, the company's chief financial officer.
"This is a multifaceted recovery," he said in an interview. "It starts with the fact that our program is better."
Forecast Raised
Weight Watchers said late Tuesday that earnings were 16 cents a share in the period ended April 1. Analysts had projected a loss of 4 cents. The company now expects earnings per share of $1.40 to $1.50 for 2017 because of the "strong start to the year," Hotchkin said in a statement. Previously, it had forecast profit of as much as $1.40.
Weight Watchers announced last week that Mindy Grossman, CEO of the Home Shopping Network since 2008, would take over at the weight-loss company in July. Weight Watchers had been searching for a replacement for Jim Chambers, who resigned from the company last year. Winfrey, who is also a Weight Watchers board member, helped with the search.
Before this year, Weight Watchers shares had fallen for five consecutive years, including a 50 percent tumble in 2016. Winfrey has helped drive up the company's stock price with tweets and advertisements about losing weight, and the marketing push has drawn new subscribers to its programs. Last year was the first time since 2011 that the company added new members over the course of a year.
"We're thrilled with the partnership with Oprah," Hotchkin said. "We're fortunate that we have many drivers of this improved performance."
Before it's here, it's on the Bloomberg Terminal.
LEARN MORE