politics
U.S. May Consider New Venezuela Sanctions as Crisis Deepens
By
Announcement came after Presdient Maduro accused of power grab

Anti-government protests over past month have left 30 dead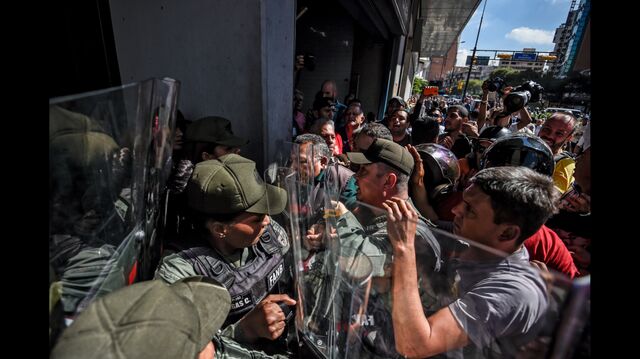 The U.S. may consider new sanctions against Venezuela in response to President Nicolas Maduro's announcement that he will seek to rewrite his country's constitution.
The Venezuelan government has "decided once again to change the rules of the game in mid-play," Michael Fitzpatrick, U.S. deputy assistant secretary for Western Hemisphere Affairs, said Tuesday on a reporter call. "The actions that were taken yesterday may well give us new reasons for considering additional individualized sanctions under the Venezuela Democracy Act of 2014."
Maduro on Monday called for a citizens assembly to draft a new constitution, in a move that was internationally condemned as an "illegal power grab" to circumvent the opposition-led National Assembly legislature.
The announcement came after another day of anti-government protests in Caracas that have claimed at least 30 lives over the past month. The U.S. urged the protesters to express themselves nonviolently. Fitzpatrick said the U.S. wants Venezuela to hold free and fair elections.
Fitzpatrick said the U.S. is still trying to figure out potential mediation efforts to bring the government and opposition-led parties back together. Getting the two sides to talk is "what's going to bring Venezuela out of its crises one way or the other," he said. "At some point there will have to be dialogue."
Past Sanctions
While the U.S. has so far avoided wide-ranging sanctions on the South American country or its economy, it has targeted individuals for drug trafficking and human rights violations stemming from anti-government protests in 2014. State oil company Petroleos de Venezuela SA has also seen minor sanctions over trade with Iran.
In February, Vice President Tareck El Aissami became the the highest-ranking Venezuelan hit by U.S. sanctions under the Foreign Narcotics Kingpin Designation Act for alleged ties to drug trafficking and one of the most-senior government leaders of any country listed by the Treasury Department under its various sanctions authorities.
Earlier that month, a bipartisan letter from U.S. Representative Ileana Ros-Lehtinen, Senator Bob Menendez and 32 other lawmakers called on President Donald Trump to sanction Venezuelan officials who have allegedly profited from the country's chronic food shortages.
In March 2015, former President Barack Obama expanded U.S. sanctions against Venezuelan officials and declared worsening relations with the South American nation to be a national emergency.
"The threat from the international community focuses on whether the U.S. escalates from individual specific sanctions to country wide sanctions," Siobhan Morden, head of Latin America fixed income strategy at Nomura, said Monday in an emailed note. "Although not a risk-free approach for the Trump administration as the U.S. would have to re-divert imports, we cannot rule out this alternative with Venezuela much more dependent on the U.S. in terms of bilateral trade flows."
Trump called the situation in Venezuela "a mess" and "very sad" after he met with his Argentine counterpart, Mauricio Macri, on April 27.
— With assistance by Nathan Crooks
(
Updates to add prior U.S. sanctions in sixth-ninth paragraphs, annalyst comment in 10th paragraph.
)
Before it's here, it's on the Bloomberg Terminal.
LEARN MORE