Trump Threatens Shutdown This Fall After Democrats Win Deal
By and
President writes on Twitter that closure needed to 'fix mess'

By noon, Trump celebrates deal as 'under the radar' victory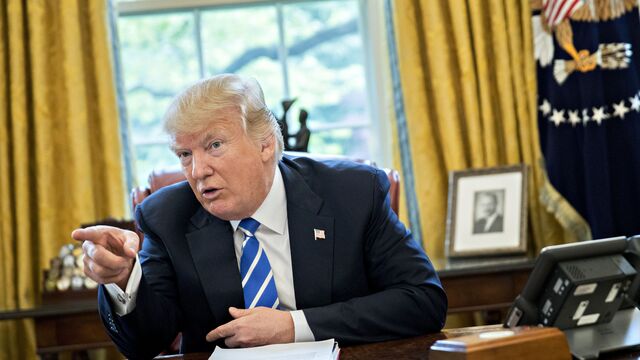 President Donald Trump threatened Tuesday to force a government shutdown later this year after congressional Democrats and Republicans struck a budget deal that largely neglected his priorities.
"The reason for the plan negotiated between the Republicans and Democrats is that we need 60 votes in the Senate which are not there!" the president wrote on Twitter in the morning. "We either elect more Republican Senators in 2018 or change the rules now to 51%. Our country needs a good 'shutdown' in September to fix mess!"
The administration's frustration with the spending deal -- exacerbated by Democratic boasting in press releases -- was evident on Tuesday. White House Budget Director Mick Mulvaney hastily convened a chaotic conference call with reporters to defend the spending agreement. His phone connection cut in and out and he struggled to be heard over a background medley of classical and patriotic music. He abruptly disconnected as "Yankee Doodle" played over the conversation.
"I think the president's tweet was that we might need a shutdown at some point to drive home at this point that Washington needs to be fixed," Mulvaney told reporters. "I think that's a defensible position, one we'll deal with in September."
By noon, three hours after his tweet, the president shifted gears, celebrating "our own victory, under the radar" in the spending deal, citing increases in spending for defense and border security.
"We didn't do any touting like the Democrats did," Trump said at a Rose Garden ceremony for the U.S. Air Force Academy football team, with five rows of cadets standing behind him. "This is what winning looks like."
Trump 'Defeat'
Yet Trump clearly felt burned by Democrats' declarations of success in budget negotiations. The White House put out a notice to reporters shortly before the Air Force presentation that he would address the compromise spending legislation.
House Democratic Leader Nancy Pelosi of California on Monday called the spending deal "a defeat for President Trump" because it "does not fund the immoral and unwise border wall or create a cruel new deportation force."
Republican Senator Lindsey Graham of South Carolina agreed with her.
"Democrats cleaned our clock," Graham said in an interview on CNN. "This is not winning from the Republican point of view."
Trump's threat of a future government shutdown drew swift condemnation, including from some Republicans.
"I don't ever want to see a government shutdown again," said House Appropriations Chairman Rodney Frelinghuysen, a New Jersey Republican. "It's a bad thing for the nation."
The electorate "voted for us to govern," John Cornyn, the Senate's second-ranking Republican leader said in a speech on the chamber's floor. "Sometimes people just give up which is what shutting down the government is, it's giving up."
'Shameful Note'
"Threatening to shut down the government, on the heels of a successful, bipartisan agreement, is a sour and shameful note to kick off negotiations for" for a fall spending deal, said Senator Patrick Leahy of Vermont, the top-ranking Democrat on the Senate Appropriations Committee. "Governing by tweet and manufacturing a crisis before our work even begins is no way to lead."
Trump's tweet also appeared intended to goad the Republican-controlled Senate to change rules that now require 60 votes to end a filibuster of legislation. Republicans reduced the threshold to 51 votes for Supreme Court nominees this year and could do the same for legislation with a simple majority vote.
Trump prodded Republicans in the Senate to end the filibuster for Supreme Court nominations as early as Feb. 1, less than two weeks after taking office. Republicans voted to do so on April 6, clearing a path for the confirmation of Supreme Court Justice Neil Gorsuch over Democratic objections.
Trump has recently focused on the use of filibusters to block legislation and federal spending.
In an interview with Bloomberg News on Monday, Trump said: "Our system is archaic." In a Fox News interview aired Friday, he said, "maybe at some point we're going to have to take those rules on, because, for the good for the nation, things are going to have to be different."
Cornyn said in his speech that the filibuster is "fundamentally important" to "force us to develop consensus" on policy. "Legislation is fundamentally different" than nominees, he said.
"The rules have saved us from a lot of bad policy, even when we were in the minority," he said.
Budget Spin
The White House has tried to spin the budget deal reached by a bipartisan group of lawmakers in both chambers of Congress as a victory, but the president's comments Tuesday suggest frustration. The bill doesn't provide as much money for a defense build-up as Trump requested and also doesn't fund a wall on the Mexican border, while preserving federal funding for Planned Parenthood, the women's health service that provides abortions. Democrats have expressed satisfaction with the agreement, which keeps the government running through September 30, the end of fiscal 2017.
In the Bloomberg interview, Trump indicated that he didn't want to see a shutdown –- at least not this month.
"Both sides agree, we have to keep government going, we don't want to shut government," he said. "We'll have more of these to discuss in the future," he said of the budget deal.
He also said: "You have to remember, this is all coming due again in September, October, and we're going to have another round of discussions."
— With assistance by Erik Wasson, James Rowley, and Laura Litvan
Before it's here, it's on the Bloomberg Terminal.
LEARN MORE