U.S. Says Thaad Missile Shield Ready to Defend South Korea
By
China has expressed opposition to anti-missile system

Tensions are elevated over North Korea's nuclear program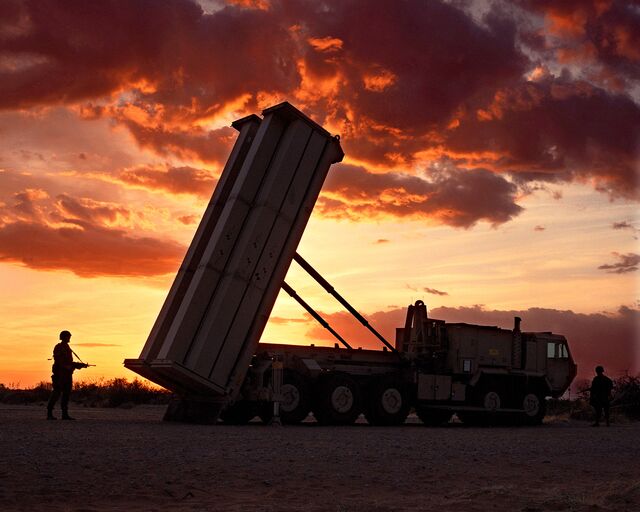 A U.S. missile shield deployed in South Korea against China's objections is now technically ready for operations as tensions grow over North Korea's nuclear program.
The Terminal High Altitude Area Defense battery set up in Seongju county more than 200 kilometers (125 miles) southeast of Seoul is able to respond to North Korean threats, South Korea's defense ministry spokesman Moon Sang-gyun told reporters on Tuesday in Seoul. The ministry had said previously it expected the system to be fully operational by the end of the year.
Thaad "is operational and has the ability to intercept North Korean missiles
and defend" South Korea, Col. Rob Manning, a spokesman for U.S. Forces Korea, said in a statement.

The installation has come faster than anticipated as Kim Jong Un's regime accelerates its weapons development. North Korea is testing ballistic missiles, seeking the ability to deliver a nuclear weapon as far as the continental U.S.
Read more about Thaad and why it bothers China
China has expressed concerns the shield will upset the balance of security in the region and has demanded it be withdrawn. It's also become a campaign issue for the South Korean presidential election on May 9.
U.S. President Donald Trump has warned that military action is among the options he may consider to force Kim's regime to give up its nuclear ambitions. Thaad, made by Lockheed Martin Corp., is designed to destroy short- and-medium ranged ballistic missiles at high altitudes as they descend.
Donald Trump says he's meet with Kim Jong Un under the right conditions.
China's government has expressed "serious and justified concerns" to the U.S. and South Korea over the deployment, foreign ministry spokesman Geng Shuang said on April 26. Geng said China would take steps against the move, adding Thaad would "disrupt the regional strategic balance and further aggravate tensions on the peninsula."
China has already acted to restrict outbound tourism and has squeezed South Korean companies operating on its shores.
Thaad has been controversial within South Korea, too. On April 26, locals protested the arrival of trucks carrying equipment to the land -- a former golf course -- used to house the battery, prompting the mobilization of thousands of police officers.
Trump told Reuters in an interview that South Korea should pay for Thaad -- a cost that could exceed $1 billion. South Korea's defense ministry responded by saying it will only provide land and facilities for the deployment and operation of the system as agreed.
Election frontrunner Moon Jae-in of the left-leaning Democratic Party of Korea has denounced the expedited installation, saying it's a matter for the next president to decide. His closest rival, Ahn Cheol-soo of the centrist People's Party, said it must take place after talks with residents.
Before it's here, it's on the Bloomberg Terminal.
LEARN MORE