markets
Saudis to Control Crude Reserves, Output After Aramco IPO
By
Government will still own oil wells, deputy crown prince says

Kingdom to offer minority stake in Aramco's concession in 2018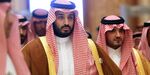 Saudi Arabia's giant oil and gas reserves and any decisions about producing from them will remain solely in government hands after Saudi Aramco's initial public offering, Deputy Crown Prince Mohammed bin Salman said on state television.
The world's largest oil exporter known formally as Saudi Arabian Oil Co. holds a concession to pump the kingdom's oil and gas, and a stake in that business is what the government will sell in an offering of "not far from 5 percent" of company shares in 2018, the prince said Tuesday in a TV interview. Analysts at Sanford C. Bernstein & Co. and Rystad Energy AS said in March that the IPO has a potential market value of more than $1 trillion.

"The wells will still be owned by the government," said Prince Mohammed, the son of King Salman bin Abdulaziz. "The company only has the right to benefit from the wells. This is the same as before, and there are no changes to that."
The government's aim of keeping full control over reserves matters because potential investors in the IPO are looking at Aramco's deposits to help weigh up the company's value. The kingdom is the only oil producer with enough spare capacity to quickly boost output at little cost to offset supply halts elsewhere. Questions remain about the degree of influence investors may have on output -- the government may impose decisions on Aramco to pump less, as it has done since earlier this year.
Production decisions will remain subject to OPEC policies and the global balance of supply and demand, the prince said. Saudi Arabia is the largest producer in the Organization of Petroleum Exporting Countries, pumping about 10 million barrels a day. Aramco's crude reserves are estimated at about 260 billion barrels.
The government in March slashed Aramco's income-tax rate to sweeten the appeal of what could be a record offering. The planned IPO is part of policy proposals by Prince Mohammed to reduce the economy's reliance on hydrocarbons.
See also: Saudis to invest at least 50% of Aramco IPO proceeds at home
Proceeds from the offering will enlarge the kingdom's sovereign-wealth fund, and at least half have been earmarked to develop local industries such as mining, he said. The prince said last year that he expects Aramco to have a value of at least $2 trillion, but Bernstein estimated it in March at $1 trillion to $1.5 trillion, while Rystad put it at $1.4 trillion, assuming a long-term oil price of $75 a barrel.
Benchmark Brent crude traded up 30 cents at $50.76 a barrel on Wednesday at 4:57 p.m. in Dubai.
Read more: Saudi Aramco valuation seen topping $1 trillion after tax cut
The prince said that plans to sell shares in state-owned Aramco date back to the time of his grandfather, Saudi Arabia's founder.
— With assistance by Zainab Fattah, Vivian Nereim, and Glen Carey
Before it's here, it's on the Bloomberg Terminal.
LEARN MORE