In Tense Encounter, Merkel Tells Putin Sanctions Must Remain
By and
Open disagreement exposed on Ukraine, Chechnya, human rights

Merkel voices confidence Russia can't swing German election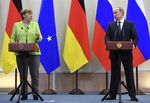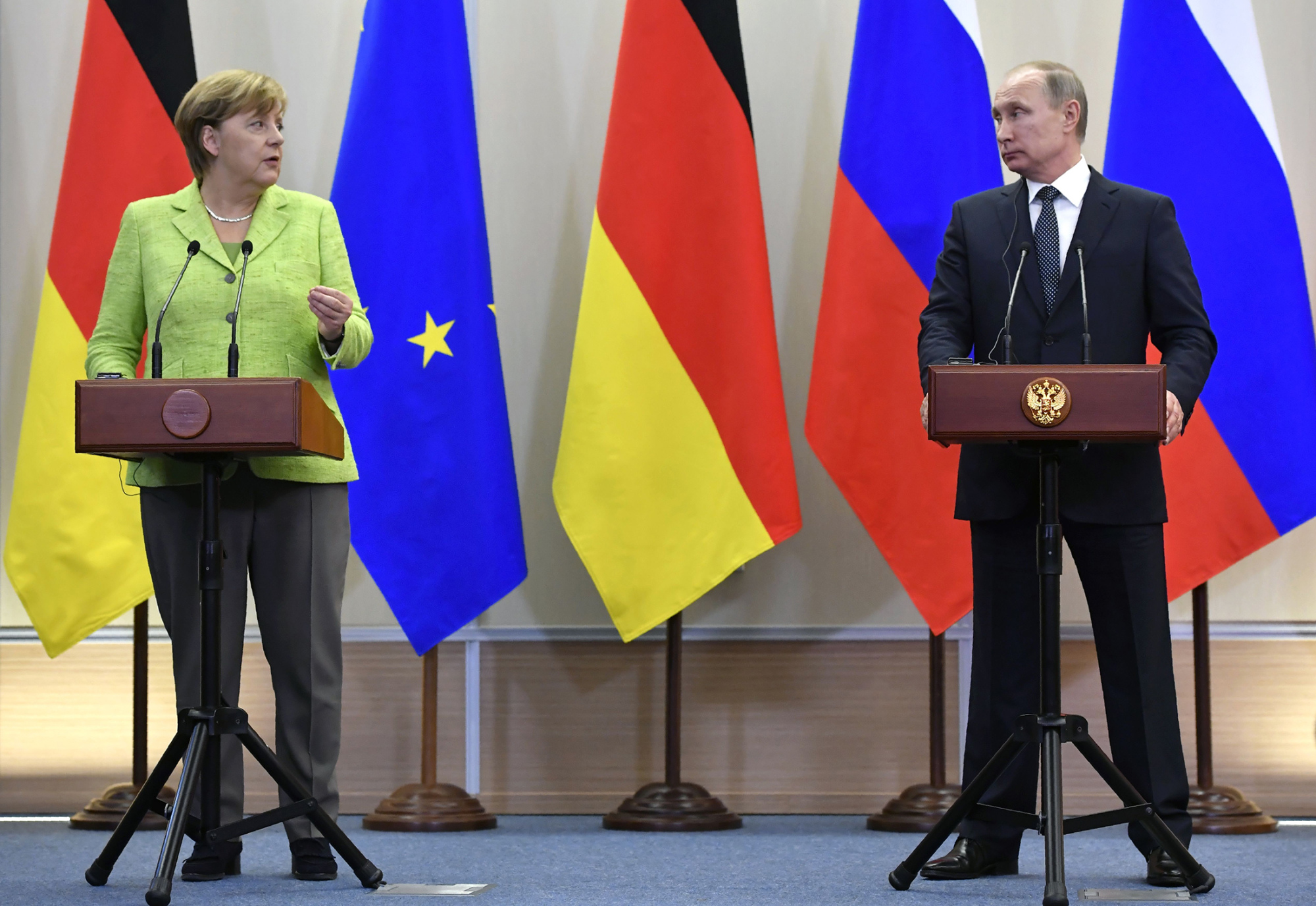 German Chancellor Angela Merkel told President Vladimir Putin that European Union sanctions will have to remain on Russia as the two leaders clashed over Ukraine, human rights and election meddling at a chilly encounter in the Black Sea city of Sochi.
Addressing a joint press conference with Putin after about two hours of talks on Tuesday, Merkel raised concerns about the rights of homosexuals in Chechnya and Russia's role in the war in Syria. She devoted much of her time to the lack of progress in resolving the three-year-old conflict in Ukraine.
While Putin sought to lay the blame on the Ukrainian government, the chancellor said that a cease-fire is required as part of the "arduous" so-called Minsk process for restoring peace in eastern Ukraine and appealed to him to make it happen.
"My goal remains to get to the point where we can lift EU sanctions, but there's a link here," Merkel told reporters on her first visit to Russia since May 2015. The peace process is "moving very slowly, we only make progress in small steps and constantly have setbacks."
Merkel, who met with President Donald Trump at the White House in March, is visiting Putin in her capacity as holder of the presidency of the Group of 20 nations. As well as Ukraine, Merkel and Putin discussed the civil war in Syria and the G-20 summit in Hamburg in July, when the Russian and U.S. presidents are scheduled to meet for the first time.
Stuck on Ukraine
Ukraine was the main flashpoint, with Putin reiterating his stance that the Russian-backed breakaway regions in southeastern Ukraine split off because of a "coup d'etat, an unconstitutional change of power in Kiev."
Merkel noted the two leaders' "different opinions" about the origins of the conflict in Ukraine, which spiraled after protests over a scrapped accord with the EU triggered the downfall of the Russian-backed government in 2014.
"We don't share this view," Merkel said in the briefing, which dispensed with the usual pleasantries or leaders' banter. "We think that the Ukrainian government came to power through democratic means."
Although she's among Putin's sternest critics, Merkel has sought to keep a channel open to the Russian leader even as she holds the line on EU sanctions, which are a response to Russia's annexation of Crimea and backing for Ukrainian separatists.
Hours before Putin was scheduled to speak by phone with Trump on Tuesday, he responded again to allegations of electoral interference, saying "we never interfere in the political life of other countries."
Not Scared
Accusations of Russian meddling in the U.S. elections "were never proven by anything or anybody," Putin said, dismissing them as "just gossip."
Merkel, asked about concern of possible Russian interference in Germany's election in September, said that "all I can say is that I'm not a fearful person."
"I'm going ahead with my election campaign, based on what I believe in," she said of her bid for a fourth term as chancellor. "I'm proceeding in full confidence that we Germans can carry out this election campaign among ourselves without harm and with a large enough range of positions to make that possible."
Sochi was the location for one of the stranger encounters between Merkel, who learned Russian in school in communist East Germany, and Putin, who speaks German from his time as a KGB agent in Dresden. In 2007, at one of their first meetings in Russia after she became chancellor, Putin allowed his black Labrador Koni to wander close to a visibly tense Merkel, who has a fear of dogs.
"Of course I apologized when I learned that she does not like dogs," Putin told Germany's Bild newspaper in a January 2016 interview, saying he hadn't been aware of Merkel's dislike.
Before it's here, it's on the Bloomberg Terminal.
LEARN MORE