Kyle Bass Sees China's Wealth Management Products as Key Risk
By and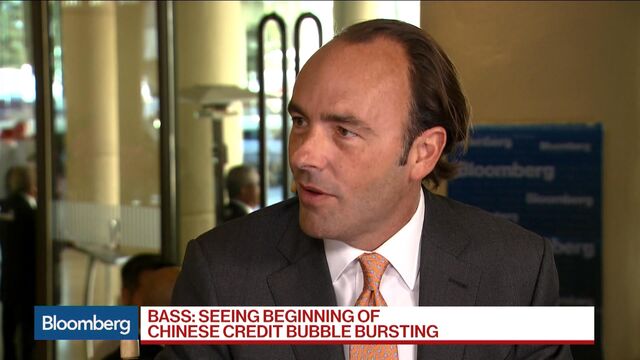 Kyle Bass, founder of Hayman Capital Management, warned that ballooning assets in Chinese wealth management products are another sign of a looming credit crisis in the nation.
"Some of the longer-term assets aren't doing very well," Bass said on Bloomberg TV from the annual Milken Institute Global Conference in Beverly Hills, California. "As soon as liabilities have problems all hell breaks loose."
The wealth management products, or WMPs, have swelled to $4 trillion in assets in the last few years, he said. Bass has been sounding the alarm for some time that debt-burdened Chinese banks need to be restructured.
For a QuickTake on WMPs, click here
The credit system expanded "too recklessly and too quickly," the hedge fund manager said. It's beginning to unravel, he said, but doesn't know how long that will take.
Early last year, Bass called for a 30 percent devaluation in the yuan against the dollar, and he's since opened two Asia-focused funds to wager on the imbalances in the region, which he said could extend to Hong Kong and Taiwan.
His flagship Hayman Capital master fund returned almost 25 percent last year on bets placed across global rates, currencies and commodities, Bloomberg reported in January.
Quotes from this Article
Before it's here, it's on the Bloomberg Terminal.
LEARN MORE