IMF Sees Gulf Budget Deficits Shrinking as Rulers Spend Less
By and
GCC to return to current account surplus as oil prices rise

Bahrain and Oman are struggling to control public finances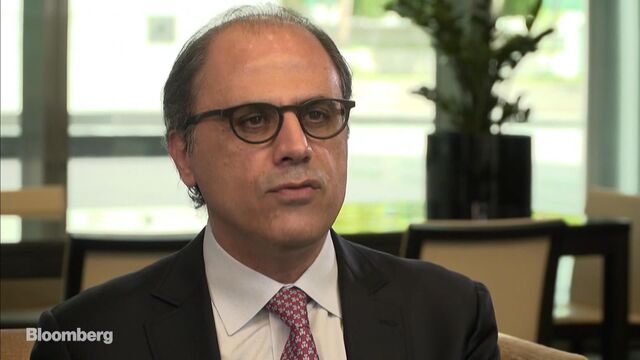 Spending cuts and an increase in oil prices are helping Gulf Arab monarchies lower some of the world's highest budget deficits, the International Monetary Fund said, hailing it as progress in efforts to transform economies that have relied on hydrocarbons for more than five decades.
These five charts highlight key elements from the latest IMF outlook released in Dubai on Tuesday.

Most of the countries in the six-member Gulf Cooperation Council have made "substantial" fiscal adjustment, Jihad Azour, head of the Middle East and Central Asia Department at the IMF, said in an interview in Dubai on Monday.
The Washington-based lender expects the cumulative budget shortfall of the six countries through 2021 to stand at about $240 billion, compared with a forecast of about $350 billion in its 2016 outlook, he said.

After two years of deficits, the IMF expects the six-member bloc to record a current account surplus in 2017 as oil prices recover. Saudi Arabia, whose shortfall reached almost 9 percent of gross domestic product in 2015, is expected to record a 1.5 percent surplus.
The picture isn't as rosy in more vulnerable economies.
Bahrain, a Saudi ally and home to the U.S. Fifth Fleet, is struggling to cope with the effects of low oil prices. The central bank's foreign exchange assets fell 11 percent in January to 725.9 million dinars ($1.9 billion.) The IMF expects gross official reserves to fall to the equivalent of 1.1 months of imports this year from 1.9 months in 2015.

Asked whether the drop threatens the island-kingdom's dollar peg, Azour said Bahrain was able to tap international bond markets with ease last year. Having low financial buffers means they need to rely more on fiscal reforms, including the introduction of value-added taxation and subsidy cuts, he said.
"The peg is still the right policy," for Bahrain and Oman, the biggest oil producer in the Gulf outside OPEC, according to Azour. While Oman will see its shortfall shrink, it will still have a deficit of 12.3 percent of GDP.

Oman saw its budget swell to about 21 percent of GDP in 2016, higher than the IMF forecast. The fund still expects the shortfall to narrow by half this year.
"Revenue is projected to increase but a big part of the adjustment is coming from the expenditure side," Azour said.

The IMF expects the oil price which Saudi Arabia needs to balance its budget to drop to about $83 a barrel from almost $94 last year, the biggest decline in the GCC. The U.A.E. is forecast to avoid a budget deficit only with oil at $67 per barrel this year, up from around $59 in 2016.
While Bahrain's breakeven price is projected to drop, it remains the second-highest among Middle East exporters after war-ravaged Yemen.
Before it's here, it's on the Bloomberg Terminal.
LEARN MORE