Venture Capital
Hampton Creek CEO Fires Top Execs After Fundraising Struggles
By
Food startup has raised $7 million toward a $150 million goal

CEO said to terminate chiefs of finance, operations and HR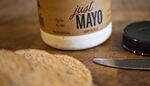 Hampton Creek Inc. has struggled to line up funding, and its management is in turmoil.
The venture-backed vegan food company has brought in a fraction of the funding it's been trying to raise for the better part of a year, a slowdown from the rapid pace at which it was able to lure cash from investors in its early years as a startup. Meanwhile, Chief Executive Officer Josh Tetrick is looking to cut costs and fired several of his deputies, while a handful of other senior managers have exited the company in recent months, showing a lack of stability in Hampton Creek's leadership ranks.
Last week, Tetrick dismissed his chief financial officer, chief operations officer and human resources chief, said people familiar with the matter. The heads of finance and logistics were also terminated, following a round of cuts in October and a slew of other departures, said the people, who asked not to be identified because the details are private. After the cuts, the vice president of business affairs, who served as corporate counsel and an adviser to Hampton Creek's board, resigned on Monday, the people said.
Tetrick is taking steps to reduce expenses as the company endeavors to bring in more capital. Hampton Creek had set out to raise as much as $150 million, according to an estimate by private stock market firm Equidate based on a corporate filing from August. It has only secured about $7 million toward the funding round, said people with knowledge of the matter.
After Bloomberg asked Hampton Creek for comment on Monday, Fortune published an interview with Tetrick describing changes to his management team. He said he's looking for leaders who are "very resilient" and hired two new vice presidents and a dual CFO-COO starting this month. He also told Fortune that Hampton Creek raised funds valuing the business at $1.1 billion, without disclosing the amount of capital it received.
A Hampton Creek spokesman disputed the $7 million figure on Tuesday but declined to provide details. He said the company isn't struggling for financing.
With the latest dismissals, at least a dozen senior leaders have left Hampton Creek in the past year, including the COO's predecessor and the vice president of partnerships. Tetrick told staff that some of the people terminated last week had been under-performing, said an employee, who asked not to be identified to avoid being fired.
"These people made us a better company while they were here," Tetrick wrote in an emailed statement Tuesday. "Some changes were made due to structural reasons, and some changes were made due to performance reasons. Out of respect for the individuals who helped build this company, we won't comment further."
Tetrick, 37, has been the face of Hampton Creek since he co-founded the company in 2011 and set about creating Just Mayo, a mayonnaise product without eggs. He sold some of Silicon Valley's top venture capitalists on his vision for a food-technology business that replaces animals with plant-based alternatives.
In 2015, Tetrick helped solidify his control over Hampton Creek through an arrangement giving him majority voting power over the board, people familiar with the matter said. While concentrating power in the hands of founders has proved fruitful for Alphabet Inc. and Facebook Inc., it's contributed to problems at technology companies, such as Tanium Inc., Uber Technologies Inc. and Zenefits.
Bloomberg reported last year that Hampton Creek asked contractors starting in 2014 to buy up large quantities of its products from store shelves. A goal of the initiative was to show "huge sales out of the gate" after introducing its products in supermarkets. The practice drew U.S. federal scrutiny. In March, Tetrick told employees that inquiries from the Justice Department and the Securities and Exchange Commission had concluded without finding wrongdoing.
As Hampton Creek has faced difficulties meeting its fundraising goals recently, Tetrick has tried to court a wide array of potential investors, including sovereign wealth funds and family offices in Asia, Europe and the Middle East, said people familiar with the matter. Prince Khaled bin Alwaleed bin Talal, the chairman of KBW Investments and son of the wealthiest Arab on the Bloomberg Billionaires Index, was seen visiting Hampton Creek's San Francisco headquarters recently, as was Tony Kanal, the bassist from No Doubt.
Tetrick has been trying to stanch the flow of red ink at Hampton Creek to show the business is on a path toward sustainability. Losses rose as high as $10 million a month in 2016, a person familiar with the matter said. Cost cuts narrowed losses to about $4 million last month. The company has recently attracted interest from venture capitalists in Asia and Europe, the person said.
(
Updates with another senior executive departure in the third paragraph.
)
Before it's here, it's on the Bloomberg Terminal.
LEARN MORE