markets
Fannie, Freddie Profit Payments Should Continue, Treasury Says
By
Mnuchin wants dividends paid as required under bailout

Payments compensate government, spokeswoman for Mnuchin says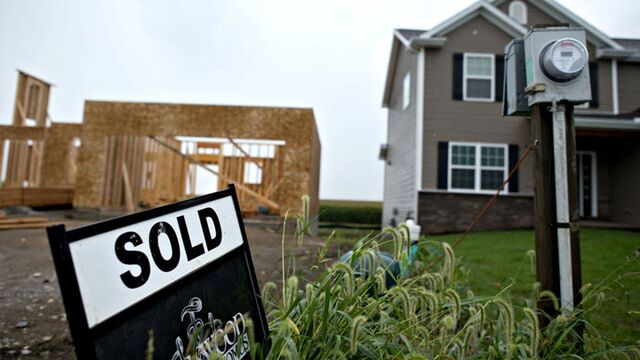 U.S. Treasury Secretary Steven Mnuchin wants mortgage-finance giants Fannie Mae and Freddie Mac to continue sending their profits to the government under the terms of their bailout agreements, a spokeswoman said.
The position is likely to disappoint some advocates of immediately suspending the dividend, including small lenders, affordable housing advocates and large homebuilders, who have sought to stop the payments and allow Fannie and Freddie to rebuild their capital buffers. Private shareholders of Fannie and Freddie, which include funds managed by Paulson & Co. and Perry Capital, have also called for a dividend suspension.
The Treasury spokeswoman, who described Mnuchin's views in response to a question from Bloomberg News, said Mnuchin believes the companies should continue to follow the terms of the bailout by paying dividends as compensation to the government.
Decisions about whether dividend payments should continue are in the hands of Mel Watt, the director of the Federal Housing Finance Agency, who was appointed by former President Barack Obama and has a term that lasts until 2019. Watt, whose agency controls Fannie and Freddie, can direct the companies not to send the payments.
Watt in the past has expressed concern that the companies' declining capital buffers could put the mortgage-finance system at risk and as recently as March strongly considered suspending the dividend, according to people familiar with the matter.
Fannie, Freddie Overhaul
At a Milken Institute conference in Los Angeles on Monday, Mnuchin said that an overhaul of Fannie and Freddie is a priority for the Trump administration, with changes potentially being made in the latter half of 2017 or early 2018. A revamp of the companies should ensure taxpayers are protected and liquidity is maintained in the mortgage market, he said.
The government took over Fannie and Freddie in 2008, eventually sending them $187.5 billion in bailout money. In return, Treasury received a class of "senior" preferred shares that paid a 10 percent dividend, along with warrants to acquire nearly 80 percent of the companies' common stock.
In 2012, the government changed the terms. It would take all of the companies' net worth over a capital buffer of $3 billion in 2013, which was designated to decline by $600 million each year until hitting zero dollars in 2018. At that time, the companies would need more bailout money if they suffered a loss.
Obama officials argued that the profit sweep compensates the government for its support and that the declining capital buffer wasn't an issue, since the companies still have about $259 billion in available bailout money to draw from Treasury if needed. But some shareholders said the changes were illegal and sued.
Freddie reported first-quarter earnings on Tuesday and said it planned to send $2.2 billion to the Treasury. Fannie reports earnings on Friday. Under the terms of the bailout agreements, their dividends would be sent to the Treasury by the end of June.
Before it's here, it's on the Bloomberg Terminal.
LEARN MORE