EU Governments Unimpressed With 'Unhelpful' Brexit Dinner Leak
By , , and
Comments set 'wrong tone' before negotiations, Ireland says

European diplomats dismiss article painting a bleak picture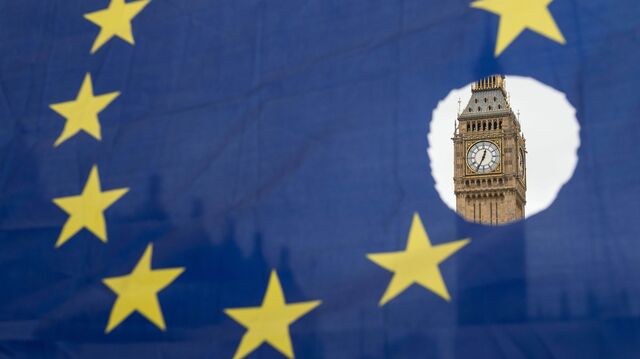 European government officials transmitted cautious optimism about finding common ground with the U.K. over Brexit, distancing themselves from the skepticism of European Commission President Jean-Claude Juncker.
Leaked details of an allegedly disastrous dinner between Juncker and British Prime Minister Theresa May in London are "not helpful," Irish government chief whip Regina Doherty said on Tuesday. The comments set the "wrong tone" as Ireland wants a "vibrant" trade relationship with the U.K. after Brexit in 2019, she said in an RTE radio interview.
Juncker left the April 26 meeting shocked at May's reluctance to compromise and "10 times more skeptical" of reaching a deal, according to Germany's Frankfurter Allgemeine Sonntagszeitung. The U.K. leader, eager to convey to voters she can handle talks that can turn nasty, responded by saying that Juncker was discovering that she could be a "bloody difficult woman."
A German official expressed unease over the leak and called it unusual. Both Britain and Germany have a keen interest in reaching a Brexit agreement and now isn't the time to prepare for any failure of the negotiations, said the official, who asked not to be named because of the sensitivity of the matter.
A Brussels-based European government official said the article stemmed from unhelpful spin by Juncker's chief of staff, Martin Selmayr, and doesn't reflect the view of EU partners.
Everybody has an interest in a Brexit agreement and the decision by May to hold an early election increases the prospects for a deal by giving her more room to compromise, according to the person, who asked not to be named in line with policy.
Commission spokesman Margaritis Schinas declined to answer questions on Tuesday about whether the report originated from Selmayr yet cited comments by Juncker on April 29 in which he said the complexity of the Brexit negotiations is underestimated.
"There are issues that clearly are not understood the same way from the technical point of view," Schinas said.
— With assistance by Dara Doyle, and Viktoria Dendrinou
Before it's here, it's on the Bloomberg Terminal.
LEARN MORE