Brexit Takes Shape: What We Learned From 27 European Leaders
By , , and
EU sees itself as united, ready to demand U.K. for money

U.K. wrong if country thinks it has the 'upper hand' in talks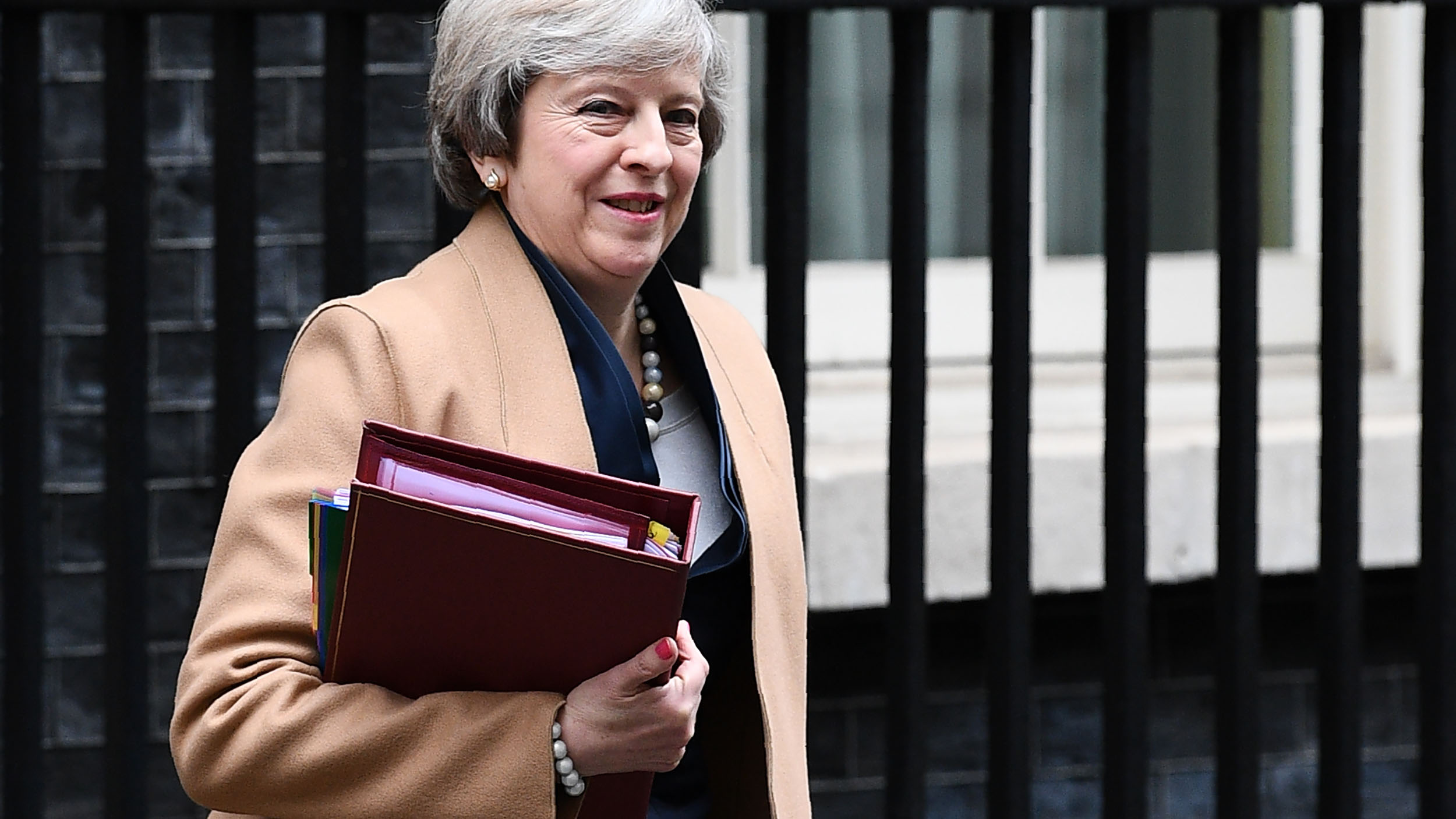 European leaders unanimously signed off on their negotiating guidelines for the Brexit talks in a matter of minutes at a summit on Saturday.
After almost a year of posturing, the endorsement opens the way for discussions that will culminate with the U.K. leaving the bloc in March 2019, with or without a deal. Here are the takeaways from what was discussed by the EU's 27 other governments in Brussels:
Europe United
While British Prime Minister Theresa May says that "Brexit means Brexit,'' EU officials reckon it will be they, not her, who determine its actual definition. They're confident they have the whip hand by virtue of numbers and the right negotiating experience. And as they see it, Britain has more to lose should talks collapse.

They have, so far, proved united in that approach, at least when it comes to the terms of separation, limiting Britain's ability to divide and conquer. While EU President Donald Tusk said there's desire to maintain a "close" relationship, many leaders also said that they won't allow Britain to enjoy better terms outside the bloc. Such a concession could set a precedent that encourages others to leave.
Still, preparing its position may prove to have been the easy part. European Commission President Jean-Claude Juncker said on Saturday the EU 27's united front will come under strain when negotiations get under way. "It will even be difficult to retain the unity which we were able to construct today, but we will do our utmost," he said.
Reality Not Biting?
As German Chancellor Angel Merkel put it last week, there's concern some in May's government still harbor "illusions'' they can win preferential treatment.
Juncker said his British friends "underestimate the technical difficulties we have to face" as officials repeated the EU's view that the sides must settle the issue of citizens' rights, the Irish border and the check-out bill before looking at trade.
The message from Tusk was that the trade talks Britain wants won't start before "sufficient progress" has been made on the divorce terms -- and all 27 EU leaders will have to agree that this benchmark has been reached. EU negotiator Michel Barnier doesn't see that happening until the end of the year, and even then officials say only a framework for a trade accord is likely before Brexit.
"The U.K. is being confronted with reality now," Luxembourg Prime Minister Xavier Bettel said in an interview.
It will be a blow to Britain that 27 individual leaders will each have a veto on opening the trade debate. But the EU's position does mean parallel discussions on the divorce and the new commercial accord -- a key aim for May -- will be possible at a later date.
May stuck to her guns on Sunday, telling broadcasters that payments should be negotiated at the same time as trade, and that a "comprehensive" agreement is possible by the time of Brexit. "I want to ensure that we agree on a trade deal and our withdrawal arrangements so we know what these are when we leave the EU," she said. "I'm confident we can get a deal."
The upshot is that the first part of the talks is likely to be spent deciding just what to talk about -- although both sides seem to be confident they can quickly sort out the rights of nationals.
Pay Up
Britain can think again if it reckons it can dodge paying a bill. Lithuanian President Dalia Grybauskaite said positions on the "single financial settlement'' remain distant.
While Saturday's talks gave no formal figure, Luxembourg's Bettel said it will be between 40 billion and 60 billion euros ($44 billion to $65 billion). The guidelines demand the U.K. "respect the obligations resulting from the whole period of the U.K. membership," signaling Britain would have to pay membership fees until the agreed seven-year budget period concludes at the end of 2020, even though it will already have left by then.
Europeans know they have leverage by being able to delay trade talks, but are willing to provide May with domestic political cover. Negotiators may agree on a formula to calculate liabilities, but will delay setting and publicizing the amount, said officials familiar with the matter. Some in the EU are even prepared to delay presenting the final sum until close to the day Britain leaves.
Election Blues
May called an election for June 8. She says on the campaign trail that a big win for her Conservative Party would "strengthen my hand in the Brexit negotiations.'' EU officials, though, question that confidence.
On the positive side, there's hope that if May does prevail she can make the concessions necessary to secure a transition deal. Her willingness to u-turn on holding a vote also points to pragmatism. Some are worried, though, that she'll promise voters more than she can deliver.
Britain Buckles
There's the sense that it's the British who've been the ones to make concessions, even while being stubborn on other issues. May no longer speaks of "no deal being better than a bad deal," and has accepted she can't have immigration controls as well as membership of the single market. She also indicated an understanding that any transitional period will require bowing to the EU's rules for longer.
"Compromise will be necessary on both sides,'' Brexit Secretary David Davis said last week. European Parliament President Antonio Tajani hinted that the EU could also give ground, saying after the summit that the guidelines were flexible and could be revised in future.
Trade and Finance
While Tusk's original blueprint pledged to "work towards'' the "ambitious'' trade pact that May seeks, the final version speaks blandly of "initiating work towards an agreement on trade'' to be finalized only after Britain leaves.
While May wants to include the financial industry in any pact, the EU ring-fenced it in its guidelines and said any future pact must "respect its regulatory and supervisory standards regime and application.''
Such a backdrop means there are already voices in May's government suggesting she puts finance aside to ensure other industries don't lose out. There are also some in the City of London who suspect the EU also increasingly wants to create its own financial hub.
What's Next?
The European Commission will come up this week with a more detailed mandate for Barnier. Governments need to approve it on May 22. Substantial talks on the terms of separation will only start after the U.K. votes in June, although it may require the conclusion of German elections in the fall for them to really get going.
"There is no doubt that these negotiations are the most complex the U.K. has faced in our lifetimes," said Davis. "They will be tough and, at times, even confrontational."
— With assistance by Tony Czuczka, Lyubov Pronina, Nikos Chrysoloras, Jonathan Stearns, Stephanie Bodoni, Alexander Weber, Dalius Simenas, Viktoria Dendrinou, Marek Strzelecki, Edward Ludlow, Tim Ross, Arne Delfs, John Follain, Marine Strauss, and Radoslav Tomek
Before it's here, it's on the Bloomberg Terminal.
LEARN MORE