White Men Can Change at Rockwell Automation
A commonsense approach has diversified the workforce.
By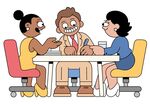 Lee Tschanz, vice president for North American sales at Rockwell Automation, thought a black employee he was coaching was too timid to advance. But Tschanz was feeling pressure from his bosses to help people of color and women succeed at the Milwaukee-based industrial automation and software company. He decided to try a different approach after learning in training about the distinct challenges faced by workers who aren't white men.
Tschanz told the employee he wanted to better understand his experiences as a black man at work. The employee then shared that his father and grandfather had always warned him not to challenge white authority. "He said he'd grown up in the South and could end up hanging in a tree if he did that," says Tschanz, a 24-year veteran of Rockwell. The frank exchange helped: The employee started speaking more at meetings with superiors and eventually was promoted to a management job. "Up until this point, I'd always thought I was fair and promoted the best people and didn't understand it isn't equal for everyone," Tschanz says.
Over the past decade, Rockwell executives have diversified what was a predominantly white male workforce. The current and former chief executive officers have made this a priority and part of managers' performance reviews. White men are coached to understand—and change—attitudes and behaviors that make women and minorities feel unwelcome and prevent them from advancing. The result: Rockwell isn't just recruiting more women and minority engineers and managers, it's retaining more of them.
Last year about 25 percent of managers and 25 percent of senior leaders who report directly to the CEO were women, up from 11 percent in 2008. They're also 13 percent of engineers and 31 percent of other professionals. People of color made up 15 percent of managers and 21 percent of engineers in 2016. Overall, 10.8 percent of all Rockwell's employees are black, Latino, or from another minority group, and 8.6 percent are Asians. These figures are significant at a time when competition for science, technology, engineering, and mathematics talent is steep and many executives in Silicon Valley say they can't find enough qualified black or Latino people and women for engineering jobs or even sales and other management positions. Black people and Latinos make up only 6 percent of technical professionals at tech companies; women, 17 percent. Those numbers haven't budged in three years.
The gains at Rockwell have taken years, and parity for women and minorities remains elusive. "We still have a way to go," says Ernest Nicolas Jr., vice president for strategic sourcing and supply management. Nicolas, who is black, is one of seven people of color among 53 vice presidents and regional directors. His experience has been positive and has kept him at Rockwell, as he's had opportunities for new experiences and to advance. Since joining the company in 2006, he's had five jobs, including an overseas assignment as regional director for Asia Pacific manufacturing.
Building diverse teams is crucial to Rockwell's growth, CEO Blake Moret tells managers. "This isn't a one-season fad for us," he says. "It's something we're investing in."
Rockwell is also notable for what it hasn't done. Unlike many tech companies and those in other industries, it never set hiring quotas or established formal mentoring programs. Instead, it focused on getting white male managers to change their attitudes. "Most companies are looking to the women and minorities to fit in or to tell them how to fix things and leaving out white men," says Susan Schmitt, Rockwell's senior vice president for human resources.
Tschanz says he was reluctant in 2008 to attend an off-site workshop called "white men as diversity partners" but went at Schmitt's urging. Initially he was bored, he says. Then a lightbulb went off when the facilitator drew two boxes on a whiteboard, one marked "men" and the other "women," and asked the group to describe each gender. "We said words like 'strong,' 'in charge,' and 'macho' for men, and 'soft' and 'pretty' for women," he says. "And then the facilitator drove home his point, telling us that a woman who wanted to be a woman couldn't easily join our box, and if she tried to join us she'd likely be judged 'too tough' or 'bitchy.' Suddenly I realized how much energy and time women and minorities spend just trying to fit in."
About 4,400 of the company's 22,000 managers and employees worldwide have attended workshops for white men. An additional 600 employees of both genders have received training in recognizing unconscious bias. Prospective employees are interviewed by teams that include women and minorities, and executives attend recruiting events. Customer and staff meetings now include wine tastings and cooking lessons, as well as more traditional events such as golf outings.
Stephanie de Garay, who joined Rockwell in 1996 after graduating from college with an electrical engineering degree, was feeling stuck in her sales staff job at the York, Pa., office when she heard about the training nine years ago. She formed a networking group in 2009 for other women that now has about 550 members, including men. It's helped to ease women's isolation and raised their visibility with executives. "I hadn't been on their radar before," she says.
De Garay has been promoted three times since 2010 and is now head of sales in southern Ohio, a $160 million territory with 50 employees. Her husband followed her; he cares full time for their three children. "Now if you want to be promoted, you need to be engaged in something related to diversity and inclusion, and you can't fake it," de Garay says. 
The bottom line: Unlike the tech industry overall, Milwaukee-based Rockwell is recruiting more women and people of color, and retaining them.
Before it's here, it's on the Bloomberg Terminal.
LEARN MORE