Putin, Trump May Meet Before July G-20 Summit, Russia Says
By and
Preparations being made for first meeting, Ryabkov says

Trump expected to visit Europe in May for NATO, G-7 summits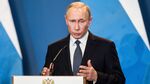 Russia and the U.S. are preparing for a possible first meeting between Vladimir Putin and Donald Trump before the two presidents attend July's Group of 20 summit in Germany, according to Russian Deputy Foreign Minister Sergei Ryabkov.
"There are preparations," Ryabkov said Thursday in a text message. "The issue of whether the schedules of both leaders can coincide is a separate question. As of today, there is no clarity on this."

Trump is due to travel to Brussels for a May 25 summit of heads of North Atlantic Treaty Organization states. He also plans to attend the Group of Seven meeting of leaders of major industrialized nations that takes place in Italy May 26-27. He and Putin may meet in another European country after the G-7, and preparations for the talks began in detail following U.S. Secretary of State Rex Tillerson's visit to Moscow earlier this month, Kommersant daily reported Thursday, citing U.S. and Russian officials it didn't identify.
A meeting in May between Putin and Trump isn't being planned and reports to the contrary are "wishful thinking," Kremlin spokesman Dmitry Peskov told reporters on a conference call Thursday.
Amid controversy over Russian meddling in the U.S. presidential elections, Tillerson's "hawkish rhetoric" during his visit may have "helped free up a bit of political capital to allow Trump to sit down with Putin," Timothy Ash, a senior emerging-market sovereign strategist at Bluebay Asset Management in London, said by email. "Moscow will be very pleased as they want engagement with Trump, thinking that in face-to-face talks the two leaders can create some special bond to create some new opportunities in the relationship."
'Good Chances'
There are "good chances" that Putin and Trump will meet at the end of May in Europe, according to Valery Solovei, a political scientist at the Moscow State Institute for International Relations. "But the meeting will be of a getting-to-know-you nature, there won't be any serious discussions," he said.
Tillerson held talks with Putin and Foreign Minister Sergei Lavrov in Moscow days after Trump ordered missile strikes on a Syrian airbase in response to a deadly chemical attack in Syria that the U.S. blamed on President Bashar al-Assad's regime. Putin, who's sent Russian forces to back Assad against rebels fighting to topple him, called the U.S. attack an act of "aggression on a sovereign state." Tillerson and Lavrov said relations between Russia and the U.S. have sunk to a dangerously low level.
Tensions over Syria aren't easing and "it's necessary to find a way out," said Alexander Baunov, a senior associate at the Carnegie Moscow Center. While a meeting between Trump and Putin "became, strangely, a little more possible after the strikes," it will likely only take place if "both sides are able to take away something concrete and this isn't clear yet," he said.
Before it's here, it's on the Bloomberg Terminal.
LEARN MORE