Is the Trump Bump Over?
The administration gives businesses and consumers no reason to splurge.
By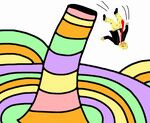 There was always something precarious about the Trump Bump, the surge of enthusiasm among investors and businesspeople that followed Donald Trump's surprise victory in November. People got excited partly because other people were excited: They believed optimism would be a self-fulfilling prophecy, setting off a virtuous spiral of spending, investment, and economic growth. Hope remains. Stocks rose almost 2 percent on April 24 and 25, partly in anticipation of the White House's tax cut announcement.

But outside the financial markets, Trump enthusiasts haven't gotten around to putting their money where their mouths are. Companies haven't stepped up hiring and investment, and consumers haven't gone on a spending binge. The virtuous spiral hasn't started. The U.S. economy continues to grow at the 2 percent rate that marked most of the Obama years—far below the 3.5 percent, 4 percent, 5 percent, or more that Trump at various times claimed he'd achieve.
Bond investors who thought Trump would "reflate" the economy are watching their wagers sag like a hot air balloon with the burner turned off. Betting on rising interest rates was a big winner last year, when the yield on the 10-year Treasury note shot up from 1.8 percent to 2.6 percent in just more than a month. Since then the yield has fallen back below 2.3 percent. Stocks are up because investors expect lower corporate taxes—not necessarily stronger economic growth.
Economists have some theories about why the Trump Bump hit a speed bump. One is that businesspeople have been repeatedly disappointed by weak growth. "There were so many false promises of a pickup in the economy over the last eight years," says Carl Riccadonna, chief U.S. economist for Bloomberg Intelligence. "Businesses were optimistic. However, they were being very practical and pragmatic. They were waiting to see policies actually go into place."
When businesses are confident of an uptick in demand, they add workers; instead, nonfarm payrolls grew by an average of only 170,000 from November through March, below last year's pace. Executives aren't installing more machines to cope with a flood of work, either. New orders for capital goods, excluding the volatile defense and aircraft sectors, grew just 0.3 percent in February from a year earlier.
The skepticism is well-placed. Republicans have been unable to get much done despite controlling the White House and both houses of Congress. The tax cuts and infrastructure spending executives were promised haven't (yet) materialized. One meter of investors' hopes for corporate tax cuts is a Goldman Sachs Group Inc. index of the stock prices of companies that pay high effective rates and would thus benefit disproportionately from cuts. The index leapt right after the election but has done worse than the S&P 500 since Jan. 1.
On April 24 a White House official said Trump will call for lowering the corporate tax rate to 15 percent, from 35 percent. But deficit hawks in Congress are unlikely to OK such a big cut without equally big cuts in spending, which would be politically difficult to achieve, says Todd Lowenstein, director for research at HighMark Capital Management, an investment firm. "His opening position is not his bottom line. Negotiation will ensue," Lowenstein says.

On the consumer side, the post-election surge in confidence hasn't translated into action, either. Retail sales fell in February from January and dropped again in March. The Conference Board found in a survey that people haven't stepped up plans to buy major appliances or travel, and they're only slightly more inclined to buy a car than they were preelection.
Part of the problem is that the public's optimism is far from uniform. Republicans are ebullient—their reading on the consumer expectations index in April was twice as high as in October. Democrats' expectations correspondingly plunged.
Economists have left their outlook for gross domestic product growth mostly unchanged—they predict 2.2 percent this year and 2.4 percent next year—but that's largely because many of them never bought into the Trump Bump scenario in the first place. "We made an explicit decision not to incorporate any fiscal stimulus into our forecast," says Ben Herzon, a senior economist at Macroeconomic Advisers LLC in St. Louis. "We had some of this euphoria reflected in our interest rates forecast, but we didn't put it in GDP."
Then again, Goldman Sachs did build some Trumpian stimulus into its outlook for 2018, and Chief Economist Jan Hatzius says the firm stands by the forecast. "The ups and downs in enthusiasm and despair have been a little exaggerated," he says. "Now maybe people are a little too pessimistic."
The bottom line: With no action yet on the tax cuts and infrastructure spending Trump promised, the economy is still moving slowly.
Before it's here, it's on the Bloomberg Terminal.
LEARN MORE