markets
Hong Kong Dollar Drop Has Origin in Property-Lending Rumbles
By
Currency is at its weakest against greenback since early 2016

Interest-rate divergence between Hong Kong and U.S. widens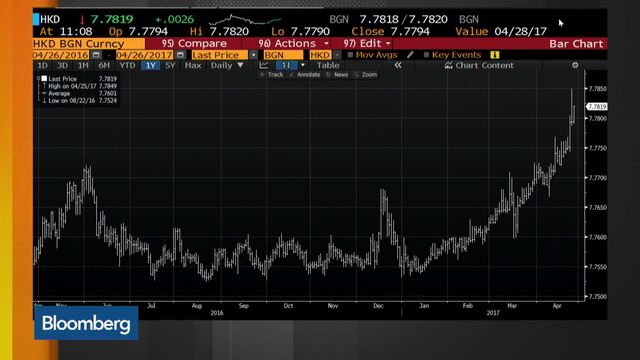 Where U.S. interest rates go, Hong Kong's follow. At least that's the theory with the territory's pegged currency system.
It's not always the case. There was a sharp divergence in rates in 2003, when Hong Kong's economy was hit by the impact of the deadly SARS virus, causing a drop in lending that generated a surfeit of liquidity, driving down rates. Local dynamics are causing a gap again, though now it has nothing to do with face masks -- it's all about real-estate lending.
In an effort to cool the world's most expensive property market, authorities late last year imposed tighter restrictions on bank loans and raised the stamp duty. With loans for existing homes harder to get, developers have rushed in to offer financing for new properties, a shift that's put pressure on banks' own lending rates -- leaving the interbank Hibor rate drifting below its U.S. equivalent. The result: the Hong Kong dollar is at its weakest in 14 months.

The Hong Kong dollar -- linked to the U.S. currency for 34 years -- is one of the only major Asian currencies to have weakened against the U.S. dollar year-to-date. The widening of the rate gap has made it attractive for investors looking to borrow cheaply in Hong Kong and buy the greenback, especially with the Federal Reserve set to continue gradually raising rates.
"We're going to have not only a divergence in interest rates in the U.S. going up, but a divergence in liquidity," Claudio Piron, co-head of Asian foreign-exchange and rates strategy at Bank of America Merrill Lynch in Singapore, said in an interview with Bloomberg TV on Thursday.

Being only allowed to trade in a range of 7.75 to 7.85 against the greenback means the Hong Kong dollar isn't subject to sharp swings. But it's having a bad run, weakening for eight straight days, the longest such streak since September 2014.
It was last at 7.7822, comfortably in the middle of the trading band and nowhere near as weak as in January 2016. Back then, the currency fell to 7.8295 per U.S. dollar as capital flowed out of Hong Kong due to a sell-off in local equities amid concerns over a Chinese economic slowdown and offshore yuan depreciation pressure.
Piron said he expects the Hong Kong dollar to weaken toward 7.85 per U.S. dollar in the coming six to 12 months.

After the Fed embarked on a rapid rate-hiking cycle in 2004, the benchmark U.S. interest rate climbed from 1 percent to 5.25 percent in just two years. The divergence with Hong Kong lasted into 2005, the year policy makers said they would limit the local currency's moves to the band of 7.75 to 7.85 per U.S. dollar.
The currency's slump in January 2016 led to speculation that the peg to the dollar would end, but it subsequently strengthened. The Hong Kong Monetary Authority has said it is committed to maintaining the linked exchange-rate system, and that it's expected that the Hong Kong dollar will weaken when the U.S. interest rate rises above the local one.
— With assistance by Ronnie Harui, and Shery Ahn
(
Updates with analyst comments in fifth and eighth paragraphs.
)
Before it's here, it's on the Bloomberg Terminal.
LEARN MORE