technology
Ford Struggles to Sell Its Self-Driving Car Vision
By
Investment in autonomous driving to pinch earnings this year

Tesla surpassed Ford by market value earlier this month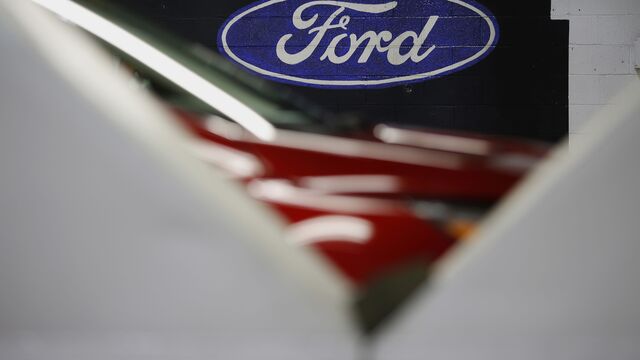 Ford Motor Co. has work to do convincing investors that its bet on self-driving cars and robo-taxis will pay off for shareholders now enduring a profit drop to go along with a stock-price slump.
First-quarter adjusted earnings fell by 42 percent, dragged down by a wager on battery-powered and autonomous autos. Chief Executive Officer Mark Fields acknowledged to analysts that Ford needs to better explain the opportunity for revenue and profit growth ahead. The carmaker plans to "paint a picture" of how the company views the future unfolding for self-driving vehicles and mobility services at an upcoming event for investors, Chief Financial Officer Bob Shanks said in an interview.

Fields has struggled to generate enthusiasm for plans to pour billions into new technologies and take on upstarts like Uber Technologies Inc. and Waymo, Alphabet Inc.'s self-driving spinoff. The CEO has said earnings will rebound next year as new models including the redesigned Lincoln Navigator are expected to start paying off. Until then, earnings will continue to be pinched in a U.S. market that's also seeing auto demand roll back following a seven-year growth spurt.
"This will be the toughest quarter" for a decline in profits, Shanks told reporters at Ford's headquarters in Dearborn, Michigan. "The balance of the year, in the aggregate, will be flat to better."
Profit excluding some items was 39 cents a share during the first three months of the year, beating the 34-cent average estimate of analysts surveyed by Bloomberg as well as the company's own projection given in March. Net income on that basis fell to $2.22 billion.
Three weeks after Fields became CEO in July 2014, Ford's stock closed at the highest level of his tenure, at $17.84. Since then, the shares have fallen 36 percent through Thursday's close, trailing the S&P 500 Index.

The cool reception so far to Ford's plan to plow into autonomous driving and electrification stands in stark contrast with Tesla Inc. The company led by Elon Musk has posted only two quarterly profits in its history, yet its market value surpassed Ford's this month.
"Tesla is just all about the long-term potential of the company," David Whiston, an analyst with Morningstar Inc. in Chicago, said by phone ahead of Ford's earnings release. "People are willing to pay quite a bit for that over established profits and cash flow from Ford."
Ford may still have little choice but to take the hit now to prepare for a future where companies like Tesla, Apple Inc. and Waymo are aiming to dominate an autonomous age.
"If Ford doesn't do it, Silicon Valley will," said Whiston, who rates Ford the equivalent of a buy. "If you don't invest now to make sure you're competitive in the next decade, you risk becoming obsolete."

To win over investors, Ford is planning to go into greater detail at the investor event about how it sees its prospects by the middle of the next decade, Shanks said.
"Just paint a picture of what the business could look like by that point in time, how big it might be, what type of margins," Shanks said. "It would help investors look beyond this quarter, look beyond this year and see the business is transforming and you really do have to participate or you'll get left behind."
Ford warned investors last month that its sharpest earnings decline this year would come in the first quarter. Profits also were undercut by higher commodity costs, currency headwinds and lower sales due mostly to a pullback in deliveries to fleet customers. Declining used-car values are dragging on results for its financial-services unit.
Pre-tax profit fell in North America, Europe and the Asia-Pacific region. Sales in China decreased after the government reduced a tax break for small-engine cars.
"It was a tough quarter for China," Shanks said. "We believe we're getting back on track in terms of the performance issues that we had in the quarter and we're expecting much stronger results for the region and for China for the balance of the year."
Ford likely will find a way to boost profits next year through cost cuts and profits from new models, Whiston said. He estimates the company's shares have a "fair value" of $14, though he doesn't see the stock climbing to that level anytime soon.
"If the U.S. holds up, management's expectation of the first quarter being the weakest could certainly turn out to be true," he said. "But a lot of things can go wrong."
— With assistance by David Westin
(
Updates with comments from CFO beginning in second paragraph.
)
Before it's here, it's on the Bloomberg Terminal.
LEARN MORE