Does Putin Still Favor Sidekick Medvedev?
After graft allegations sparked anti-Kremlin protests, the political future of Russia's prime minister is cloudy at best.
By , , , and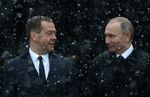 In past presidential elections, Russia's Vladimir Putin has twice resorted to a sudden ouster of his prime minister to bolster results at the ballot box. Dmitry Medvedev, the longest-serving premier since Putin came to power in 2000, seemed likely to be an exception, even nursing hopes of one day succeeding him. But with Medvedev's poll numbers sinking amid corruption allegations that sparked the biggest anti-Kremlin protests in years, Medvedev could be expendable in the runup to Russia's 2018 election.
According to two allies, Medvedev is more worried than ever about his political future. Two other people close to the Kremlin say Medvedev is likely to become more vulnerable the closer the March 2018 election gets. His approval rating, already weak because of a two-year recession, fell by 10 percentage points after the corruption allegations surfaced in March, to a record low of 42 percent in a poll by the independent Levada-Center published on April 5. Putin meanwhile remains highly popular, with 82 percent approval.

Jettisoning an unpopular prime minister would seem like an easy call. With Putin all but guaranteed victory next year, cementing his status as Russia's longest-serving leader since Stalin, it's hard to generate much voter enthusiasm. A change of No. 2 could give the appearance of breathing new life into Putin's government and help boost turnout among voters disheartened by the longest economic downturn in two decades.
But removing Medvedev could also embolden Putin opponents. Chief among them is Alexei Navalny, an activist lawyer who in early March released a documentary that accused Medvedev of amassing luxurious properties in Russia and Italy with more than $1 billion channeled by business allies to bogus charity funds. Putin can't fire Medvedev "without making it into a present for Navalny," says Gleb Pavlovsky, who was a Kremlin adviser until 2011.
The Navalny video, viewed around 20 million times on YouTube, sparked protests on March 26, when an estimated 60,000 people took to the streets in more than 80 cities, some mocking Medvedev by carrying sneakers and rubber ducks—references to his taste for pricey athletic shoes and the revelation that one of his estates has a duck house in the middle of a pond. The size of the rallies and the participation of large numbers of school children and university students were unpleasant surprises for Putin, according to the two people familiar with Kremlin thinking. Others close to his administration dismiss the concerns. "Ratings go up and down, that's a normal process," Putin's spokesman, Dmitry Peskov, says about Medvedev's falling popularity, although he declined to comment on whether the prime minister still enjoys Putin's full trust. This week, a new Levada poll found that 45 percent of those surveyed would back Medvedev's ouster, with only 33 opposed (the rest were undecided). Medvedev spokeswoman Natalya Timakova said, "The prime minister doesn't put much stock in poll data, especially those conducted by Levada-Center with very clear political motivation."
Medvedev, 51, served as president from 2008 to 2012, when Putin took the premier's job to sidestep constitutional term limits as head of state. He was once seen as a potential reformer. A former lawyer, he proclaimed support for the rule of law and protection for private business, saying that "freedom is better than non-freedom"—an almost revolutionary assertion in Russia when he made it in 2008. Medvedev held out the prospect of warmer ties with the West as he championed modernizing Russia's oil-dependent economy.
During a 2010 visit to the U.S., Medvedev visited the headquarters of Apple Inc. and tried to build a rapport with Barack Obama, who treated him to burgers in Arlington, Va., and sought to "reset" relations with Moscow. But Putin gave Medvedev little room to change the Kremlin-dominated system, even as president. When Medvedev agreed in 2011 to step aside and let Putin return to the presidency the next year—not entirely willingly, by some accounts—any credibility he had with allies at home and abroad evaporated. Medvedev's overtures to the West ended when Putin's annexation of Crimea and covert military intervention in Ukraine in 2014 provoked the worst stand-off since the Cold War.
Medvedev has never thrown off the perception that he's merely "Robin to Putin's Batman," as a 2008 U.S. embassy cable published by WikiLeaks described the relationship. "Medvedev is seen as a much softer and more liberal figure than Putin and therefore weaker in the eyes of most people, who view guaranteeing order in the country as the key thing," says Alexei Grazhdankin, deputy head of Levada. As prime minister, Medvedev hasn't left much of a personal stamp on policy and has come to be known for his tin political ear. At an appearance last year in Crimea, he brushed off pensioners complaining that their benefits hadn't been indexed to cover surging inflation, saying, "There's no money, but you hang in there." The phrase exploded across the Russian internet and even made its way into television comedy shows.
Medvedev's associates blame his troubles on political rivals in the Kremlin linked to the security services, namely Igor Sechin, 56, the powerful head of state oil giant Rosneft. Both men have known Putin since they worked for him in St. Petersburg when Putin rose to the post of deputy mayor in the 1990s. A supporter of the dominant state role in the economy, Sechin has clashed with Medvedev and his technocratic allies, who favor a more free-market approach. In 2016, Medvedev lost a battle to stop Rosneft from buying a smaller government-controlled rival after Putin backed Sechin.
There's concern within the president's inner circle that if something were to happen to Putin, the constitution would install Medvedev in his place. Though there's no immediate risk to Putin, who by all accounts is in good health, Medvedev would have plenty of revenge to exact as president, so pressure is increasing on Putin to push him aside, says Sergei Markov, a political consultant to Putin's staff. Still, there is widely believed to have been an informal agreement between them that keeps Medvedev as premier until at least 2018. "Medvedev is teflon-coated," says Markov. "He can take any number of blows. I think he will survive."
Putin is likely to leave any decision on Medvedev until nearer the elections because "if you take this step too early, it won't be as effective," says Alexei Chesnakov, a former top Kremlin official who continues to advise authorities. Medvedev's dismissal could become "quite realistic if the campaign needs something to liven it up." For now, though, Medvedev is a convenient figure for Putin in his role as a "lightning rod" for discontent, allowing the president to remain above the fray, says Andrei Kolyadin, a former top Kremlin official who's now a political analyst. If Putin removes Medvedev from office, "He can become a target of criticism himself."
The bottom line: Graft allegations against Russian Prime Minister Medvedev have lowered his approval ratings to 42 percent, a record low.
Before it's here, it's on the Bloomberg Terminal.
LEARN MORE