Deutsche Bank's Return to Growth Delayed as Trading Trails
By and
Debt trading, equity trading miss estimates in first quarter

CEO Cryan has vowed 'controlled growth' after raising capital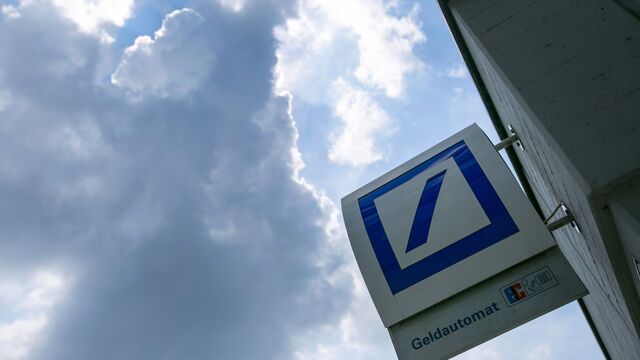 Deutsche Bank AG's muted gains in a particularly strong period for Wall Street trading is raising doubts about how quickly Chief Executive Officer John Cryan can recover ground lost to competitors.
Europe's largest investment bank on Thursday reported an 11 percent increase in revenue from trading bonds and currencies in the first quarter. That's less than half the 24 percent jump in the combined fixed income revenue at the five biggest U.S. investment banks. Income from dealing in stocks, which the firm has sought to expand because of its lower capital requirements, declined 10 percent while it was broadly flat at the U.S. lenders.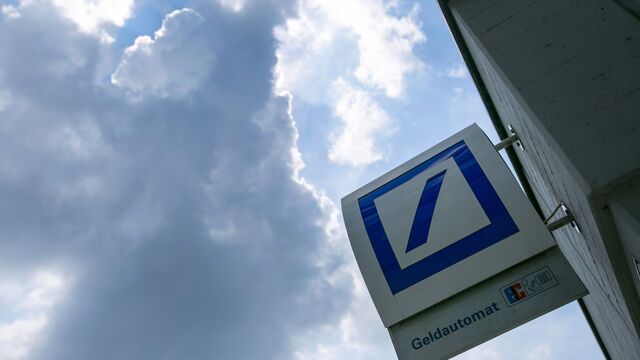 "We are rather disappointed," Kian Abouhossein and Amit Ranjan, analysts at JPMorgan Chase & Co., wrote in a note. "This should normally be the best quarter in terms of revenue performance and market conditions were solid."
The results suggest the bank has yet to fully win back the trust of clients, including hedge funds that reduced business in the final months of last year amid concern about the lender's capital strength. Cryan has vowed to return to "controlled growth" after misconduct charges sapped years of earnings and forced the firm to tap investors for 8 billion euros ($8.7 billion) in fresh capital this month.
Deutsche Bank recovered about half the prime brokerage balances it lost in the fourth quarter, Chief Financial Officer Marcus Schenck, who was named co-head of the investment bank last month, said in an interview. Debt-trading revenue was hit by the bank's 2015 decision to exit from securitized trading, he said.
To read more about Schenck and his new role, click here.
"We're definitely not yet firing on all cylinders," Schenck said in the interview with Bloomberg Television, adding it takes some time for prime brokerage balances to be rebuilt when clients return.
Analysts surveyed by Bloomberg News had expected an 18 percent increase in fixed-income trading and a 2.6 percent decline in equities trading revenue, according to the average of eight estimates. Advisory revenue was down 24 percent.
Deutsche Bank fell as much as 3.9 percent, the most in more than five weeks, and traded 3.1 percent lower at 11:45 a.m. in Frankfurt. Before today, the shares had rebounded 84 percent from their low in September. Even after that rally, the stock offered the steepest discount to tangible book value of the largest global investment banks. The discount indicates that it's worth less than investors would expect to receive if the firm liquidated its assets.
"Some investors will be looking critically at the debt and equity trading numbers and asking whether this shows a loss in market share," said Philipp Haessler, an analyst at Equinet Bank AG in Frankfurt who has a buy recommendation on the shares. "But there's some positive news in there, too, if you look at the stable capital ratio, lower underlying costs and the inflows in the asset management business."
'Getting Stronger'
Net income in the three months through March rose to 571 million euros, from 214 million euros a year earlier. That beat the 475 million-euro estimate of seven analysts surveyed by Bloomberg as costs declined and the company booked lower restructuring charges.
Net revenue in the first quarter fell 9 percent, largely the result of an accounting effect known as debt-valuation adjustment, or DVA. It stems from an increase in the value of the company's debt, which would be more expensive to buy back as confidence in the lender's strength returned. Without that impact, revenue would have been "broadly flat," Cryan wrote in a letter to employees.
"Our first-quarter results were made weaker by Deutsche Bank getting stronger," Cryan wrote. "Clients are returning following the turbulence late last year, and we see this in every business area."
'Grow Moderately'
Cryan had initially sought to avoid tapping shareholders. He reversed course after the bank failed to find a buyer for its Postbank consumer unit and the bank's shares recovered. He now plans to reintegrate Postbank, sell a minority stake in the asset-management unit, and reorganize the investment bank.
Cryan said in his letter that the restructuring and preparations for the initial public offering of the asset management unit are progressing. Clients added a net 5 billion euros to the asset management business during the quarter.
The bank said it expects segment revenues to "grow moderately" this year when adjusting for certain one-off effects, helped by an improved operating environment for Deutsche Bank and a better economic outlook.
At the securities unit, revenue from both rates and credit trading rose last quarter while foreign exchange business saw income fall from a year earlier in a "low volatility environment." Emerging markets revenues were flat across the Latin America and central and eastern Europe, the Middle East and Africa regions.
The bank said that while cash equity and equity derivatives revenue rose in the quarter from a year earlier, income from its prime finance business was "significantly lower." That reflected higher funding costs as well as lower client balances, which have recovered compared to their level in the fourth quarter.
— With assistance by Matthew Miller
Before it's here, it's on the Bloomberg Terminal.
LEARN MORE