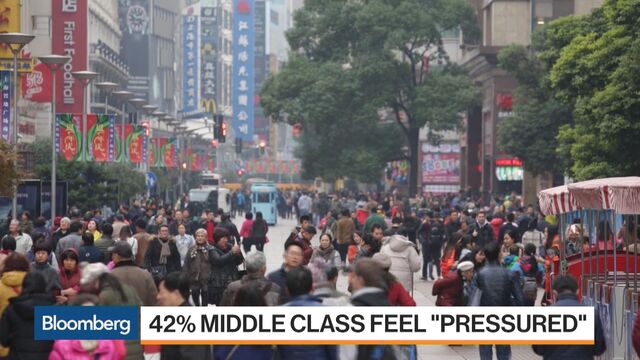 China's industrial revolution may soon hand authorities a problem more typical in mature economies: how to appease the growing discontent of the middle class.
The rapid march from poverty to economic superpower gifted China's middle class explosive income growth. Yet the image of affluent Chinese scouring the globe for luxury brands belies an insecure middle class as anxious as their counterparts anywhere. Recent data on compensation underscores their feeling of being left behind.
Growth in China's median income dropped below the rate of economic expansion in the first quarter for the first time since the data was first released in 2014. Back then, the median grew at almost double the pace of total output.

China's gauge of median personal income grew at 6.7 percent in the first quarter, less than the 6.9 percent economic expansion, according to data from the National Statistics Bureau last week.
Some 42 percent of middle-class respondents said they felt most pressured by lower-than-expected income, according to a survey released Monday by Zhaopin.com, one of China's major recruitment sites. It surveyed about 50,000 white-collar workers nationwide, almost all earning an annual income of between 50,000 yuan (about $7,260) and 500,000 yuan.
As many as 95 percent of the respondents said they feel worried, with 33 percent saying they worry very often. Some 64 percent of respondents said they are most concerned about inflation, and 71 percent said the uncertain future is the major source of their anxieties.
While inflation remains muted at a national level, big-city renters face soaring rents that are eating up as much as half their pay checks.
The middle-class feeling of being left behind is reflected in a comparison with the general population, which will take heart from a rebound in China's average income growth during the first quarter.

Slowing gains for the middle class haven't yet curbed consumption: retail sales surged 10.9 percent in January-March this year. Yet, there may be concern for authorities whether the middle class will feel increasingly excluded from President Xi Jinping's "Chinese Dream," or the opportunity to realize their potential. In other parts of the world, such malcontent has been linked to seismic protest votes such as the U.S. presidential election victory by Donald Trump and the United Kingdom's decision to leave the European Union.
— With assistance by Miao Han, and Lee J Miller
Quotes from this Article
Before it's here, it's on the Bloomberg Terminal.
LEARN MORE