Trump Corporate Tax Shakeup Puts Housing Developers in Tailspin
by
Price of U.S. tax credits drops as Trump seeks to cut levies

The decline eliminates hundreds of millions in funding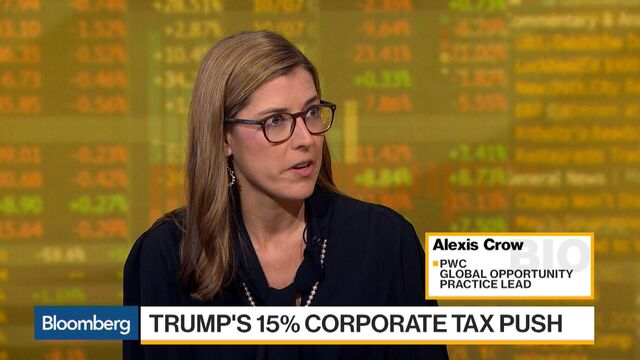 Caleb Roope's company was close to nailing down the financing to build 477 apartments outside San Francisco for senior citizens and working families, counting on the cash to be raised from selling U.S. tax credits it received to develop affordable housing.
Then after Donald Trump, who vowed to slash taxes, won the presidential election, the value of those credits plunged -- and the plans fell through. "It was already hard enough to make the projects work, given the construction costs," said Roope, chief executive officer of the Pacific Companies, an Eagle, Idaho-based builder. "The double whammy of the interest rate pickup and then the tax credit pricing decline has really put a lot of projects in jeopardy."
The prospect of deep business-tax cuts has roiled a vital, if little known, market that pumps billions into affordable housing each year. The price of such credits has tumbled as much as 15 percent since the November election, wiping out hundreds of millions in potential funding, upending building plans and leaving developers from Boston to San Diego asking local governments to make up the gaps.
In California, home to 21 of the 30 most expensive rental markets, state officials expect construction of affordable apartments to drop by 25 percent this year as a result. 
"The ratings agencies have cited the lack of affordable housing as being an economic concern about California," said Treasurer John Chiang, who is pressing for the state to increase funding for such developments. "We clearly have to make sure that we get our housing issues addressed as quickly as possible."
The federal program has helped create about 3 million affordable homes since it started in 1986. Developers can fund as much as 70 percent of a project's cost by selling the credits to companies seeking to lower their tax liabilities and banks that need to boost lending to low-income communities. Buyers can also deduct depreciation and other expenses related to the projects from their income, further reducing tax bills.
Such investors pumped $16 billion into affordable housing last year, according to CohnReznick LLP, which tracks the industry. With corporate profits rising, the market before the election had become "a little frothy," with firms paying as much as $1.35 for $1 in credit, said Jeff Whiting, president and chief executive officer of CREA LLC, a national syndicator.
The Downside of Lower Taxes
Trump's victory has caused prices to drop, given the Republican's push to lower taxes. On Wednesday, he intends to lay out broad tax principles, including cutting the federal corporate rate to 15 percent from 35 percent, according to a White House official, though the plan is likely to see changes as it advances in Congress. In the tax credit market, pricing has "coalesced" around the expectation that the top corporate rate would be reduced to 25 percent, Whiting said.
With the value of the credits diminished, some developers have needed to line up other sources of funds. National Community Renaissance, on the verge of shelving a complex primarily for homeless military veterans in San Diego, was able to salvage it by borrowing $1 million more from the city's housing commission. A Massachusetts agency also increased its lending for a Boston project to help close the shortfall for the developer, Community Builders Inc.
While some projects already underway when the Trump effect hit have been able to bridge their gaps, housing officials say they're concerned that taxpayer dollars won't be able to make up for any permanent downturn in the market.
"That was really in a blink of eye almost a billion dollars that disappeared from the resources to build affordable housing in the country," said Bart Mitchell, president and chief executive officer of Community Builders, a large nonprofit developer of mixed-income housing. "There won't be enough resources to fill every gap and have as many housing units as before."
Before it's here, it's on the Bloomberg Terminal.
LEARN MORE