politics
Trump Says Nafta Pullout Still Possible If Renegotiation Fails
By , , and
U.S. to pursue talks with Mexico and Canada, White House says

Trump aides said to be divided over how aggressively to move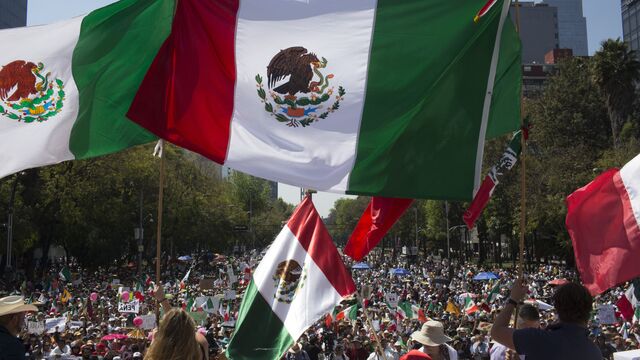 President Donald Trump said Thursday he's still ready to pull out of the North American Free Trade Agreement if he can't renegotiate better terms for the U.S. but that he decided to hold off on a decision after appeals from the leaders of Canada and Mexico.
"I was going to terminate NAFTA as of two or three days from now," Trump told reporters in the Oval Office. But he said he reconsidered after Mexican President Enrique Pena Nieto and Canadian Prime Minister Justin Trudeau both phoned him Wednesday asking him to renegotiate the deal instead. Those talks will start as soon as today, he said.
Trump also said a quick U.S. withdrawal "would be a pretty big shock to the system."
But Trump, who spoke as he met with visiting Argentinian President Mauricio Macri, added that "If I'm unable to make a fair deal for the United States--meaning a fair deal for our workers and our companies, I will terminate NAFTA."
Mexico's peso and Canada's dollar jumped after a White House announcement Wednesday that Trump would renegotiate the trade treaty rather than end it.
Trudeau said at a news conference in Saskatchewan that he told Trump withdrawing from Nafta would cost U.S. jobs. He declined to specify what Canada's demands would be in trade negotiations.
"Obviously, Canada is always going to stand up and defend Canadian interests," he said.
Trump on the campaign trail last year made a hawkish vow to pull out of Nafta -- which he repeatedly called the "worst trade deal ever" -- if the U.S. didn't get a better deal through immediate renegotiation. His decision Wednesday marks a continuing softening of his rhetoric on trade, after he recently said he would not declare China a currency manipulator, another campaign promise.
Advisers' Debate
Trump's top advisers had been embroiled in a debate over how aggressively to proceed on reshaping U.S. participation in Nafta, with hard-liners favoring a threatened withdrawal as soon as this week and others advocating for a more measured approach to reopening negotiations with Canada and Mexico.
Some of Trump's advisers wanted a dramatic move before Trump's 100th day in office on Saturday to fulfill a key campaign promise, while others said he could let the milestone pass and revisit the issue later through more formal procedures, according to two White House officials who spoke on condition of anonymity to discuss internal deliberations.
Public Dispute
The dispute played out in the media Wednesday, with several outlets saying Trump would take the most dramatic available option-- issuing an order declaring his intention to withdraw from the treaty. In this case, threatening to withdraw would have amounted to a formal step that started the process of giving Mexico and Canada six months notice that Trump intended to start negotiating.
Exactly who in the White House sparred over the decision wasn't known, but one of the most prominent anti-trade figures is senior counselor to the president Steve Bannon, and Trump's decision is sure to be viewed as a defeat for Bannon and his views. Bannon already is seen as being on the outs with Trump over reportedly sparring with Trump's son-in-law Jared Kushner.
Commerce Secretary Wilbur Ross told CNBC on Thursday that the U.S. wants to target is the rules regarding country of origin of products sold under the deal. He said that Mexico's trade deficit with China is approximately equal with their trade surplus with the U.S., indicating that products made in China are being sold under Nafta.
"The whole idea of a trade deal is to build a fence around participants inside and give them an advantage over the outside," Ross said. "So there is a conceptual flaw in that -- one of the many conceptual flaws in Nafta."
Free Trade Supporters
A number of Republicans are strong backers of free trade and have cautioned the administration against walking away from the free-trade deal.
"Scrapping Nafta would be a disastrously bad idea," Republican Senator Ben Sasse of Nebraska, who was a Trump critic during the campaign, said Wednesday in a statement. "It would hurt American families at the check-out, and it would cripple American producers in the field and the office."
Republican Senator Jeff Flake of Arizona also blasted the idea on Twitter, writing, "Increasing trade barriers with CAN and MEX will result in lost jobs and higher consumer costs in #AZ. Strengthen #NAFTA, don't abandon it."
Without Nafta -- which reduced or eliminated tariffs on most trade products after taking force in 1994 -- commerce ties between the nations would need to be reset, raising the specter of more frequent trade disputes and higher tariffs.
U.S. trade with its Nafta partners has more than tripled since the agreement took effect, rising to $1.1 trillion last year. Canada followed by Mexico ranked as the two biggest markets for U.S. exports, taking in a combined 34 percent of the total in 2016, according to a February paper published by the Congressional Research Service.
— With assistance by Margaret Talev
Before it's here, it's on the Bloomberg Terminal.
LEARN MORE