State Department Memo Bolsters Case to Stay in Climate Pact
By and
Top Trump officials to meet Thursday to deliberate on accord

Internal memo doesn't make explicit recommendation on Paris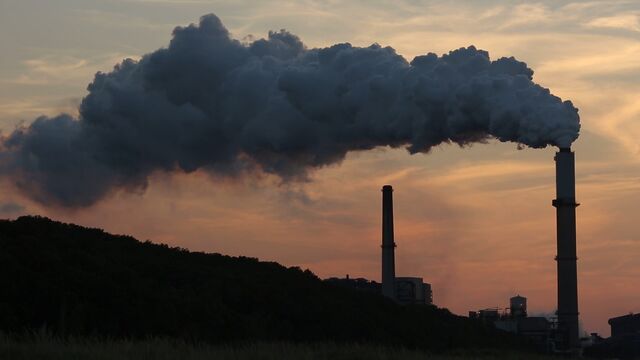 An internal State Department memo says the Paris climate accord imposes few obligations on the U.S., bolstering the case for Trump administration officials who want to stay in the deal.
The document, marked as a draft, makes no explicit recommendation about whether the U.S. should remain part of the pact. It circulated ahead of a scheduled meeting of top administration officials Thursday to discuss whether President Donald Trump should fulfill his campaign pledge to exit the deal.
While there are some binding provisions in the agreement, those "legal obligations are relatively few and are generally process-oriented," the three-page memo obtained by Bloomberg News said. Under terms of the agreement, the U.S. couldn't formally exit until 2019, the document says, and it faces no specific reporting requirements until 2021.
Trump's decision on the the Paris accord, signed by more than 190 countries, is viewed by foreign leaders, corporate executives and environmental advocates as a test of how far the new president will go to dismantle his predecessor's efforts to address climate change. Trump vowed on the campaign trail to exit the pact, but now faces pressure both in and out of his administration to break that promise.
The administration is slated to decide what to do about the deal by late May, when world leaders gather for the Group of Seven summit in Italy, White House press secretary Sean Spicer has said. White House staff met to discuss the issue Tuesday, and cabinet members and other high-level officials are set to follow suit Thursday, according to a person familiar with the plans.
Read More: Germany Calls Rick Perry's Push to Rework Paris Accord 'Absurd'
That person, who spoke on condition of anonymity, also confirmed the veracity of the State Department memo. A White House spokeswoman didn't respond to emailed questions about the document, and a State Department spokesman declined to comment on it.
Administration officials are divided over the wisdom of keeping the U.S. in the pact, with environmental chief Scott Pruitt and top strategist Steve Bannon pushing for a pullout as White House adviser Jared Kushner and Secretary of State Rex Tillerson advocate remaining in the deal. Energy Secretary Rick Perry told the Bloomberg New Energy Finance conference Tuesday he wouldn't advise Trump "to walk away from the Paris accord" and instead thinks "we probably need to renegotiate it."
Under President Barack Obama, the U.S. promised to pare greenhouse gas emissions at least 26 percent from 2005 levels by 2025. That U.S. pledge joined an array of widely varying "nationally determined contributions" from other countries.
But none of those commitments is binding, according to the State Department memo, which appears to dispel the most common arguments made by Paris agreement foes -- including concerns that staying in the global pact would undermine the Trump administration's efforts to unwind Obama-era regulations.
Read More: China Doubts U.S. Climate Pledge as Trump Mulls Paris Exit
"The agreement does not dictate any particular domestic measures a party must take to achieve its" goals, the memo says. Countries also have wide latitude to amend their planned reductions. Although the agreement encourages nations to make their commitments more ambitious over time, "it does not prohibit changes in the other direction," the State Department said.
That flexibility was built into the agreement from the start. "This was a framework that was designed to give parties considerable latitude," said Elliot Diringer, the executive vice president of the Center for Climate and Energy Solutions. That group sent a letter signed by 13 companies, including BP Plc and Wal-Mart Stores Inc., to Trump Wednesday in support of the Paris pact.
Opponents of the agreement, including Marlo Lewis, a senior fellow at the Competitive Enterprise Institute, and Chris Horner, a senior legal fellow with the Energy and Environment Legal Institute, warn that if the U.S. stays in the deal, it would hand legal ammunition to environmentalists fighting to preserve climate regulations.
Free Rein
With anything short of a complete withdrawal, "domestic and foreign opponents of Trump's energy policies and possibly activist courts can continue to invoke this 'international commitment,' and any future U.S. administration will have free rein to pick up where Obama left off," Lewis and Horner wrote in an April 17 blog post. 
Opponents also say that the U.S. would be reneging on a promise -- and incur worldwide shame -- for staying in the deal while simultaneously flouting its pledge. 
John Barrasso, a Republican from Wyoming, used his position as chairman of the Senate Republican Policy Committee to argue that the Paris agreement puts U.S. businesses at a competitive disadvantage. He circulated papers with colleagues highlighting the disparity between the U.S. carbon-cutting pledge and what other nations committed to do, including some whose emissions will actually increase. And he said the deal should be sent to the Senate for ratification.
"President Obama's actions violated U.S. policy set during the Clinton administration requiring Senate approval for any international effort to set 'targets and timetables' for emissions reductions," the policy committee wrote in its note.
But the State Department memo warns against Senate ratification, explicitly affirming the Obama administration's view that the accord is an "executive agreement," not a treaty that requires ratification. Sending it to the Senate now could jeopardize Trump's ability to ink other bilateral and multilateral agreements by suggesting "the existence of new limits on the president's constitutional authority," the State Department said.
Before it's here, it's on the Bloomberg Terminal.
LEARN MORE