business
Santander's Brazil Patience Pays off as Rebound Lifts Profit
By
First quarter net profit for Spain's lender beats estimates

Financial sector in Brazil will do "very well," CFO says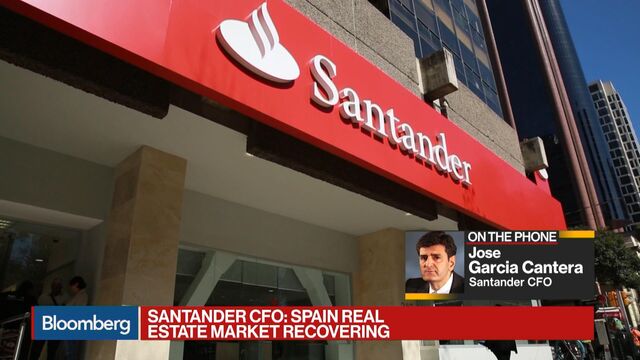 Banco Santander SA's commitment to stick with Brazil even through recession is paying off as the country's recovering economy and rising currency fuels a jump in the Spanish lender's profit.
Net income from Brazil, Santander's biggest market, jumped 77 percent from a year earlier after President Michel Temer's efforts to boost the economy following the impeachment of Dilma Rousseff helped drive a rise in the currency.
Santander Chairman Ana Botin has defended the company's business in Brazil over the last two years even as recession and political scandal weighed on the bank's shares. Income generated by the unit also climbed a year earlier, even before the economic rebound started, helped by a rise in loans, fees and trades. Brazil now accounts for 26 percent of the group's profit.
Botin said she expects to see economic growth in all of the bank's 10 main markets, despite the Brexit vote and the effect of negative interest rates at home. The bank said earlier this month it plans to raise its dividend for a second straight year as it aims to do more business from its main retail banking activity.
Santander is expecting Brazil's economy to grow this year and "the financial sector should do very well given that the financial penetration in Brazil is still very low compared with more developed economies," Chief Financial Officer Jose Antonio Garcia Cantera said in an interview with Bloomberg TV Wednesday.
Net income rose to 1.87 billion euros ($2 billion) in the first quarter from 1.63 billion euros a year earlier, the bank said in an emailed statement on Wednesday. That beat the 1.7 billion-euro average estimate in a Bloomberg survey of 10 analysts.
Excluding the rising currency, net income from Brazil climbed 38 percent on customer growth and falling loan-loss provisions, the company said. The real is the world's best performing currency over the last 12 months despite a recent decline driven by a graft probe.
"Good set of results for Banco Santander," said Daragh Quinn, an analyst at Keefe Bruyette & Woods with an under-perform recommendation on the stock. "The Brazilian business has improved with strong margins, improved asset quality and lower provisions in local currency."

Net interest income, or revenue generated from the difference between what the bank charges for loans and pays for deposits, rose to 8.4 billion euros from 7.62 billion euros a year earlier. Net fees for the group grew about 19 percent from a year earlier.
Santander is the best-placed bank to integrate Spanish lender Unicaja Banco SA if the initial public offer it's working on falls trough, El Confidencial reported Wednesday citing the Economy Ministry. A second round of mergers is expected among Spanish banks as lenders are under pressure from low interest rates and weak credit demand, and analysts expect Santander to have an active role in any mergers.
Santander will look at all opportunities in its main markets but increasing size is not a priority for the lender, Chief Executive Officer Jose Antonio Alvarez said in a conference call with analysts Wednesday.
Santander was down 0.4 percent in Madrid trading as of 3:15 p.m. after being up as much as 1.2 percent earlier in the day. The stock has climbed about 21 percent this year, beating most of its global European competitors. That compares with a eight percent increase in the benchmark STOXX Europe 600 Banks Price Index, which tracks 46 of the region's banks.
Britain Struggles
The British business was the only large unit that posted a decline in net income. Earnings fell 8 percent to 416 million euros in the first quarter hit by the depreciation of the pound against the euro and extra charges, the lender said. Excluding the currency fluctuation, profit at the unit would have increased by 3 percent. Poland, which represents just 2 percent of profit, reported a 7.6 percent decline in earnings.
Santander will remain committed to British companies and clients despite the country's plans to withdraw from the EU, Alvarez told shareholders this month. He said the bank will concentrate this year on increasing profitability in the U.K.
"The economy is doing better than we thought after Brexit," Cantera said. "We are seeing however relatively low demand in mortgages." The bank set aside 32 million pounds ($41 million) in the quarter to compensate U.K. clients who were mis-sold mortgage loan insurance.
In its home market, net income increased 18 percent to 362 million euros as Santander made fewer provisions for bad loans. Low interest rates remain a drag on the bank's revenue with net interest income in the unit posting a 9 percent drop from a year earlier. The lender sees net interest income and loan growth remaining flat in the next quarters, Cantera told analysts.
The bank's fully loaded common equity Tier 1 ratio, a measure of financial strength, rose to 10.66 percent from 10.55 percent at the end of December. Bad loans as a share of total lending at Santander fell to 3.74 percent from 3.93 percent at the end of December.
Santander is looking at achieving a return on tangible equity of more than 11 percent by 2018 and at increasing its earnings per share to reach double digit growth by 2018.
(
Updates with CEO comments in ninth paragraph.
)
Before it's here, it's on the Bloomberg Terminal.
LEARN MORE