Macron Jeered by Hometown Crowd After Le Pen's Ambush
By and
Le Pen visits Whirlpool plant unannounced roiling his plans

Macron was meeting factory workers to discuss competitiveness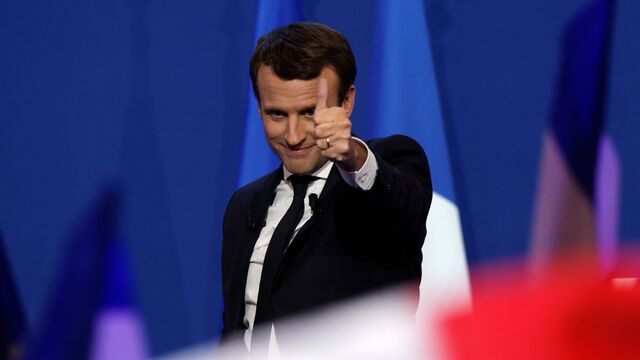 Emmanuel Macron was booed and whistled at by striking factory workers in his hometown of Amiens, northern France, after an ambush by his nationalist rival Marine Le Pen forced him into a confrontation with some of her hardcore supporters.
Le Pen made a surprise visit to the Whirlpool Corp. plant on the edge of Amiens while election front-runner Macron was meeting with union leaders from the plant in the center of town. Le Pen told reporters on the picket line that Macron's decision to meet the workers' representatives behind closed doors showed his "contempt" for their plight, forcing her rival to change his plans and engage with the demonstrators live on television.

With the black smoke of burning tires whipped up by a cold wind and cries of "Marine! President!" punctuating his remarks, Macron tried to mount a defense of the European trade regime in the factory parking lot as angry demonstrators crowded round.
"When she tells you the solution is to turn back globalization, she's lying," Macron told the workers, his comments picked by the microphones of more than 100 reporters witnessing the clash. "We cannot outlaw firing. We must fight to find a buyer." 
The factory has become a focus of the free-trade debate at the heart of the French election campaign because 280 jobs will be cut next year when the company shifts production to Poland.

For Le Pen, it's the perfect example of how European elitists like Macron are selling out French workers with their commitments to free trade. Macron argues that her plans to put up barriers to trade and withdraw from the euro would cost France jobs, and that the government has to work to help companies compete.
Jobs at Risk
Although the 39-year-old rookie in his first political campaign is the strong favorite to win the presidential runoff on May 7, he needs to regain the initiative after stumbling at the start of the week. A survey by Harris Interactive released Wednesday showed 61 percent of voters thought Le Pen had started the final stretch of campaigning well and 52 percent thought Macron had done badly.
Cecile Delpirou, the CFE-CGC union's representative at the plant, said staff at Whirlpool had been given no warning of Le Pen's visit. After a meeting with Macron, she said that he'd promised to keep a close eye on the situation but what she really wanted was talks with factory managers who are refusing to discuss the workers' situation.
Macron accused the French media of trivializing the threat posed by Le Pen and warned that the mainstream alliance that has blocked her party in the past has broken down at a press conference in Amiens before he headed over to the factory.
"If Madame Le Pen is elected, this company closes. And I can mention dozens like it," Macron told reporters, citing a nearby Procter & Gamble Co. plant which exports 90 percent of what it produces. "Le Pen's project will fix nothing of the Whirlpool problem, nothing."
Amiens is part of the Somme region, where Le Pen led in the first round with 30.4 percent of the vote. Macron got 21.7 percent.
'I Don't Understand'

Though polls suggest Macron should win the runoff by about 20 percentage points, the first-round vote also underlined that the electorate is splintered. Between Le Pen, who wants to shut borders, and Communist-backed Jean-Luc Melenchon, who called for punitive levels of taxation and a re-writing of European Union treaties, more than 40 percent of voters opted for extremist candidates.
Chantal Flahaut, a 57-year-old assembly line worker on the Whirlpool picket line, said she's been striking on and off all week and she's so sick of the situation in France that she didn't even register to vote on Sunday. Her T-shirt said "Whirlpool Manufactures Unemployment."
"I am so disgusted," she said. "Macron is in favor of big companies like ours. Stop giving aid to multinational billionaires and give us our money."
Macron spoke to the strikers for almost an hour, some still booing throughout, but many engaging with him, while France 2 television's special correspondent broadcast behind the candidate from a temporary set they'd erected.
Patrice Sinoquet from the CFDT union, who met with Macron earlier in the day, said 90 percent of his members will be voting for Le Pen.
"Macron is the worst of free-market politics," said Clement Pons, a 32-year-old unemployed man waiting outside the town-center meeting. "He's a globalist who will kill the working class. He makes me want to throw up. I don't understand his ideas."
Divided Country
The sparring in Amiens shows the depth of the frustrations in many parts of France after years of economic under-performance and a wave of terrorist attacks that Le Pen has blamed on immigration.
Macron's campaign ran into trouble on Monday when he faced widespread criticism for hosting a dinner for his team after their first-round success. Critics said he was taking voters' support for granted and the dinner had been inappropriate, while Le Pen's team said it was further evidence that he's an out-of-touch elitist who doesn't understand the struggles of ordinary people.
Benjamin Griveaux, an aide on the Macron campaign, said Le Pen was focusing on political stunts rather than trying to address voters' problems.
"If this is about tweets and selfies, then she hasn't understood what's at stake," Griveaux said. "She's fueling her political ambitions with misery and suffering. What has she proposed? Nothing. We are trying to deal with the issues."
— With assistance by Rudy Ruitenberg, Ania Nussbaum, Gregory Viscusi, and Hayley Warren
Before it's here, it's on the Bloomberg Terminal.
LEARN MORE