Hyundai Motor Counts on SUV, Genesis Brand to Revive Profits
By
Profit fell on backlash in China, heavy discounting in U.S.

Hyundai says uncertainty in business environment to continue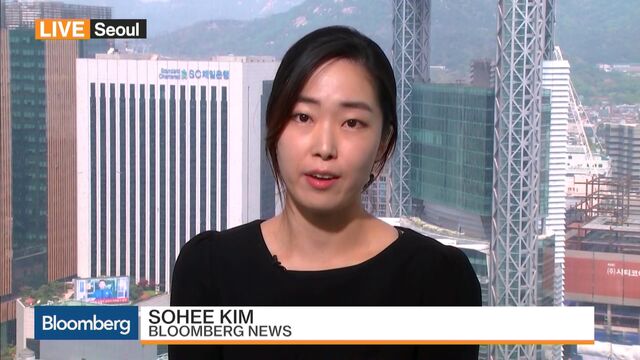 Hyundai Motor Co. is counting on a new small SUV and its luxury brand to help it rebound from a third consecutive drop in quarterly profit and overcome predictions for slower growth and intensifying competition.
Hit by a consumer backlash in China and rising discounts in the U.S., the better-than-expected 6.8 percent decline in first-quarter operating profit was cushioned by sales gains in Russia, Brazil and India. Strong demand for its new Grandeur sedan and Genesis G80 at home also contributed to earnings. Hyundai rose 4.5 percent to 151,000 won in Seoul, the most since March 21.

Deliveries in China slumped the most among its regions in the first quarter due to a lack of SUV models and a boycott by consumers over South Korea's decision to host a U.S. missile shield system, known as Thaad. Competing brands also rolled out promotions playing on the anti-Korean sentiment to win over consumers from Hyundai, Vice President Koo Zayong said on a conference call on Wednesday.
"Investors see Thaad-related problem in China as a short-term issue," said Kwon Soon-woo, an analyst at SK Securities Co. "And they expect Hyundai's introduction of new models and recovery in emerging markets will help boost its profit."
Beijing Hyundai, the automaker's Chinese venture, will respond to the market conditions "flexibly," Koo said. The Seoul-based manufacturer will introduce China-specific models and its first electric vehicle this year, he said.
In the U.S., a 15 percent jump in spending on incentives failed to arrest a decline in sales. The automaker also suffered a hit from declining residual values, as compact car prices fell more than mid-size SUVs, hurting brands like Hyundai or Kia which are more reliant on car models, according to Larry Dixon, an analyst with the National Automobile Dealers Association.
Hyundai will stabilize the rising incentives with new models in the U.S., Koo said. The company plans to introduce a revamped Sonata sedan later this year, he said.
South Korea's biggest auto manufacturer said in a statement that slow global growth, intensifying competition and concerns over trade protectionism in the auto industry are among the uncertainties for the business. The company is counting on an enhanced product lineup, including a new small SUV KONA and a Genesis luxury G70 sedan, to help regain sales momentum and lead to a gradual recovery in earnings.
Russia, Brazil and India were the bright spots for Hyundai in the first quarter, registering sales increases on the back of demand for the Creta SUV.
— With assistance by John Lippert
Before it's here, it's on the Bloomberg Terminal.
LEARN MORE