Home Capital Slumps as New Loan Flags 'Existential Crisis'
By and
Will pay 10% interest, C$100 million non-refundable fee

Home Capital shares drop the most on record in Toronto trading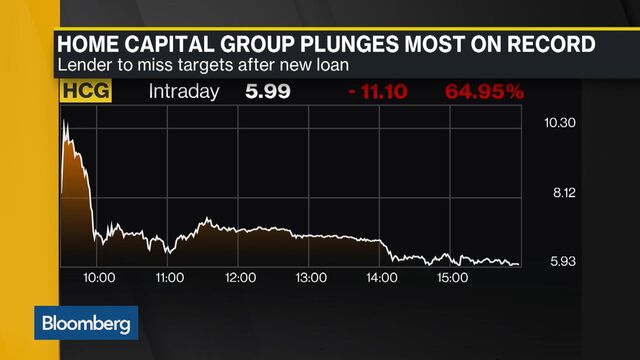 Home Capital Group Inc.'s shares plunged more than 60 percent after the mortgage lender disclosed a costly new loan to tide it over as its deposits dwindle, intensifying a spiral of bad news for the company.
The C$2 billion ($1.5 billion) loan is coming from an institutional investor that Home Capital did not identify, and the lender's agreement is non-binding. With a 10 percent interest rate plus other fees and charges, the company is effectively paying 22.5 percent on the first C$1 billion it borrows, which falls to 15 percent if it uses the full C$2 billion available to it, according to Jaeme Gloyn, an analyst at National Bank of Canada.
"They did what appears to be to us a very expensive deal," said David Baskin, president and founder of Baskin Wealth Management in Toronto, a former investor in Home Capital stock. "Basically they blew up the income statement in order to save the balance sheet, which I guess if you're facing an existential crisis is what you have to do."

Ontario's securities regulator last week accused the company of misleading investors and breaking securities laws. On Wednesday, Home Capital shares dropped as much as 64 percent in Toronto to C$6.11, their lowest since 2003 after their biggest ever one-day drop. Other home lenders' shares declined as well, with Equitable Group Inc. falling 32 percent, Street Capital Group Inc. down 7.5 percent, and First National Financial Corp., 8.5 percent.
Home Capital's troubles come as housing prices have jumped in Canada. In Toronto, home affordability reached its worst level since 1990 at the end of 2016, according to a report from Royal Bank of Canada.
'Monitoring the Situation'
The credit line will be secured by a group of mortgage loans made by Home Trust, the Toronto-based firm said in a statement Wednesday. Home Capital expects a firm deal later the same day. 
Home Capital's external spokesman Boyd Erman declined to comment beyond the statement. Canada's banking regulator is "monitoring the situation closely" but isn't allowed to disclose details of any supervision, Annik Faucher, spokeswoman for the Office of the Superintendent of Financial Institutions, said in an emailed statement.
The company has C$325 million worth of bonds due May 24, according to data compiled by Bloomberg. Home Capital's "steep" commitment fee and the interest rate on the loan "are surprising numbers for a company that was ostensibly investment-grade," said Andrew Torres, founding partner and chief investment officer at Toronto-based Lawrence Park Asset Management, which holds Home Capital's notes maturing next month. "We'll refrain from commenting further until we get more details."
OSC Allegations
Home Capital Founder Gerald Soloway will step down from the board when a replacement is named and Robert Blowes will assume the role of interim chief financial officer, the company said Monday.
The new loan will provide Home Capital with more than C$3.5 billion in total funding, more than twice the C$1.5 billion in liquid assets it held as at April 24. It also has C$200 million in securities available for sale; high interest savings account balances were at around C$1.4 billion, after having fallen C$591 million from March 28 to April 24. Lenders such as Home Capital rely on deposits to help fund their mortgage loans.
"The company anticipates that further declines will occur, and that the credit line would also mitigate the impact of those," Home Capital said.