Former Obama Ambassador Says Trump Threats Are Stifling Canada Investment
Bloomberg News
Heyman urges Trump to end doubts on tax, trade policy

Ex-U.S. ambassador says threats on Twitter also not helping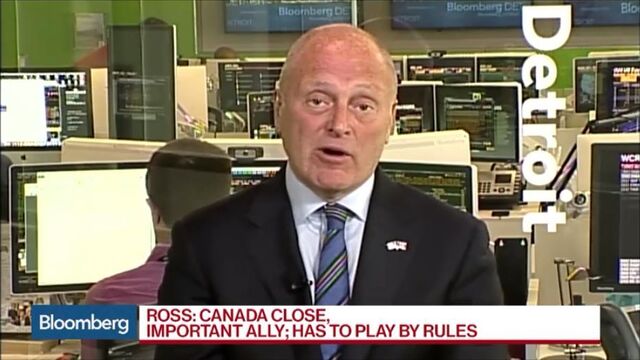 President Donald Trump's trade threats against Canada and uncertainty around tax policy are stifling investment in one of the U.S.'s biggest trade partners, according to Bruce Heyman, a former U.S. ambassador to Canada.
"Uncertainty on tax and trade is a business and investment killer," Heyman said in a speech late Tuesday. "Too many in the private sector are frozen from making future economic decisions. They wait, ideally for some certainty or at least some clarity. Going from tweets to threats is not helpful."
Heyman, who stepped down as envoy in January after Trump's election win, laid out a series of recommendations to improve ties, warning "the first 100 days have created nothing much except uncertainty in an already too uncertain world."
His dinner speech at the Great Lakes Economic Forum in Detroit comes as trade tensions between the nations worsen: Trump has lashed out at Canada over its dairy policies and imposed $1 billion in duties on Canadian lumber imports. He's also pledged to renegotiate the North American Free Trade Agreement with Mexico and Canada.
Trump has shifted his trade focus to Canada from Mexico in recent days, calling the country's dairy industry treatment of U.S. farmers a "disgrace" and saying Nafta has been a disaster.
"People don't realize Canada's been very rough on the United States," Trump said Tuesday in Washington. "Everyone thinks of Canada as being wonderful, and so do I. I love Canada," he said. "But they've outsmarted our politicians for many years."
Trump-Trudeau Call
Trump and Canadian Prime Minister Justin Trudeau had a "very amicable call" Tuesday about the dairy and lumber issues, according to a White House statement. Trudeau criticized "baseless allegations" from the U.S. on softwood lumber and pledged to "vigorously defend" Canadian interests, a statement from his office said.
Heyman, a former Goldman Sachs Group Inc. banker who served under the presidency of Barack Obama, said the rhetoric against Canada was no way to treat an ally. "It's a huge mistake to take your best friend and next-door neighbor and start poking at them really hard," Heyman said earlier Tuesday in a Bloomberg TV interview.
Heyman, who had offered to stay on as ambassador after the election, urged the Trump administration to keep talks around Nafta and softwood lumber private.
"Most of the times when these issues are raised publicly they are feeding a domestic agenda that necessitates a response," he said. "The result is not constructive but rather destructive."

"My advice is to throttle back the public sparring and work together as friends and trading partners to find paths for solutions," Heyman said, adding improved ties could even benefit Trump.
"Trump is in need of a win," he said. "He hasn't had very many of those. He's made his fair share of unforced errors and I think the Canada-U.S. relationship is a place that our president can look to get some wins."
— With assistance by David Scanlan
Before it's here, it's on the Bloomberg Terminal.
LEARN MORE