Five Things You Need to Know to Start Your Day
Get caught up on what's moving markets.
By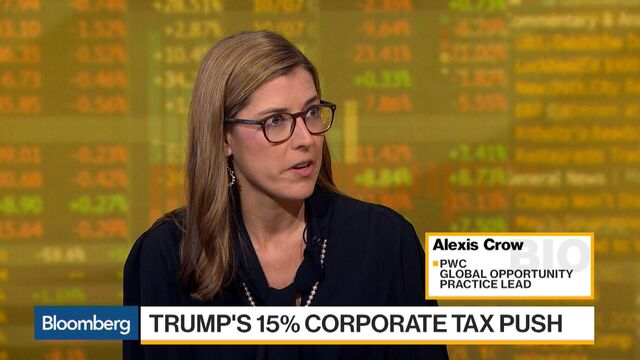 Want to receive this post in your inbox every morning? Sign up here.
Trump plans to get offshore profits back to the U.S., Credit Suisse to raise $4 billion from investors, and banks start to vote with their feet ahead of Brexit. Here are some of the things people in markets are talking about today.
Bringing it back home
President Donald Trump's tax plans include a proposal for a one-time levy of 10 percent on the more than $2.6 trillion in earnings U.S. companies hold offshore,according to a White House official familiar with the plan. The president's move to cut the corporation tax to 15 percent in the U.S. is being seen as an opening gambit in negotiations, rather than a red line, by economists as the drop in receipts would boost the deficit too much to be sustainable. Elsewhere, the U.S. Navy flotilla sailing toward the Korean peninsula is missing one key component: The ability to shoot down Kim Jong Un's ballistic missiles. 
Credit Suisse, Stanchart
Credit Suisse Group AG will raise 4 billion francs ($4.03 billion) in a rights offering, saying it has abandoned plans to IPO its Swiss Universal Bank. The company posted profits of 596 million francs for the first quarter, well ahead of analyst expectations. Shares in Credit Suisse gained 2.8 percent by 5:40 a.m. Eastern Time in Zurich trading. Standard Chartered Plc also beat expectations for the first quarter, reporting underlying pretax profit of $1.05 billion. Shares added 2.7 percent by 5:43 a.m. in London trading. 
Brexit moves
International banks are getting serious about moving to Frankfurt ahead of the U.K.'s exit from the European Union, according to property brokers in Germany's financial capital. Estimates on the number of financial jobs London will lose post-Brexit range from 4,000 to 232,000. European Commission President Jean-Claude Juncker and chief negotiator Michel Barnier will be in the British capital today for their first talks with Minister Theresa May since she triggered the start of Brexit negotiations. 
Markets quiet
Overnight, the MSCI Asia Pacific Index advanced 0.5 percent, while Japan's Topix index climbed 1.2 percent, extending its longest rally of the year. In Europe, the Stoxx 600 Index was 0.1 percent higher at 5:50 a.m. as utility company earnings disappointed. S&P 500 futures were broadly unchanged. 
Directionless oil
A barrel of West Texas Intermediate for June delivery was trading at $49.52 as of 5:55 a.m. amid conflicting signs on whether U.S. stockpiles are retreating. Today's Energy Information Administration report is expected to show a drop of 1.75 million barrels, which would jar with yesterday's American Petroleum Institute data which saw crude supplies increase by 897,000 barrels. 
What we've been reading 
This is what's caught our eye over the last 24 hours.
Before it's here, it's on the Bloomberg Terminal.
LEARN MORE