politics
FCC Chief to Roil the Capital With Net Neutrality Rollback
By
Ajit Pai prepares to speak on Obama-era open internet rule

Author of 67-page dissent launches counterattack two years on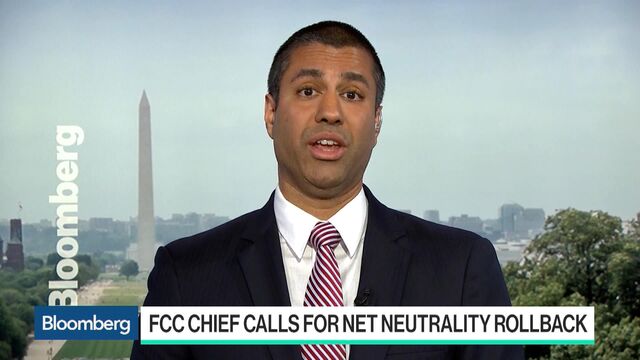 When the U.S. Federal Communications Commission voted two years ago to impose net neutrality regulations over internet service providers, Ajit Pai was in the Republican minority and issued a 67-page dissent.
Pai is now chairman of the agency and about to begin the counterattack he's long anticipated, moving to end the FCC's strong legal authority over broadband providers and sparking a debate that pits old-line telecom companies against Silicon Valley upstarts.

"We're in for a big fight here," said Gene Kimmelman, president of the Public Knowledge policy group that supports the rule. With the earlier annulment by Congress of a broadband privacy rule for internet users, "It's an explosive environment," Kimmelman said.
Pai is scheduled to speak Wednesday on "The Future of Internet Regulation" in Washington before a group that opposes net neutrality and is expected to outline his plans for replacing the current regulations.
Pai could ask the FCC to vote as soon as its May 18 meeting to begin considering ways to reverse the FCC's claim to strong authority over companies' web practices, Senator Ed Markey, a Massachusetts Democrat, said in a new conference on Wednesday.
"It makes no sense," Markey said. "We cannot keep the promise of net neutrality openness and freedom without the rules that ensure it."
FCC spokesman Mark Wigfield declined to comment.
The FCC's net neutrality regulations, passed with only Democratic votes at the FCC in 2015, forbid broadband providers such as AT&T Inc. and Comcast Corp. from blocking or slowing certain web traffic, or from charging higher fees in return for quicker passage over their networks.
The rules' fate matters to small web entrepreneurs, to web giants such as Google and Facebook Inc. that want to ensure they can reach customers unimpeded, and to cable and telephone providers that want to shed regulations.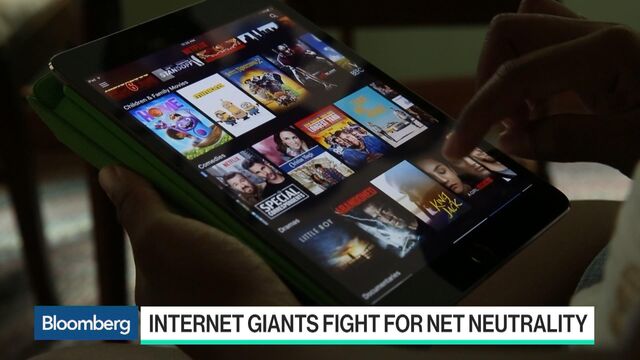 FCC's Net Neutrality Rules Now in Republican Sights: QuickTake
Supporters say the rules are needed to keep network owners from unfairly squelching rivals and discouraging web startups. Critics say competition will discipline broadband providers, and the rules discourage investment while exposing companies to a threat of heavier regulation including pricing mandates.
Pai, elevated to chairman by President Donald Trump, in December repeated his prediction that the rule's days are numbered and said he wanted to address the net neutrality order as soon as possible.
His objections have centered around the FCC's decision to classify broadband as a telecommunications service to be regulated under a section of law known as Title II. That gives the FCC "unilateral authority to regulate internet conduct," Pai wrote in his 2015 dissent.
The agency in 2015 switched to Title II from a looser regulatory classification after courts said it lacked authority for its net neutrality enforcement. Supporters say Title II puts the FCC's rules on a firm legal grounding. A court last year upheld the decision to apply that section of the law, ruling for the agency in a lawsuit brought by Comcast, AT&T and other broadband providers.
Slow Walk to High Court Is Best Strategy for Net Neutrality Foes
Eliminating Title II authority would be good for Comcast and Charter Communications Inc. because it would eliminate any risk that the FCC would regulate prices for cable broadband, Paul Gallant, a Washington-based analyst for Cowen and Co., said in an April 10 note.
Without Title II rules, Charter, Comcast, DirecTV owner AT&T and AOL owner Verizon Communications Inc. could be free to favor their own video services, perhaps blunting a challenge from video services offered over the web such as Dish Network Corp.'s Sling TV, Alphabet Inc.'s YouTube TV and Amazon.com Inc.'s Prime Video, and Netflix Inc., Gallant wrote.
A court challenge would follow, and massive resistance is likely, Gallant wrote.
Activist groups that filed more than 4 million comments to the FCC before the 2015 rule making sprang into action as Pai's speech was announced.
"Internet users will fight tooth and nail," Evan Greer, campaign director of Fight for the Future, said in an emailed news release.
Pai "is determined to give control of the internet to companies like Comcast, AT&T and Verizon," Craig Aaron, president of the policy group Free Press, said in a news release.
"We're going to have these same fights over and over until either Congress steps in" or courts decide the FCC can't keep changing its position, said Gus Hurwitz, a visiting fellow at the American Enterprise Institute.
Watch Next: Internet Association CEO Defends Net Neutrality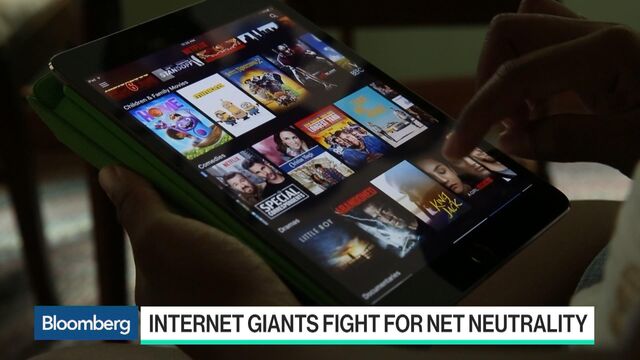 (
Updates with remark by Markey in fifth paragraph.
)
Before it's here, it's on the Bloomberg Terminal.
LEARN MORE