Euro Is Suddenly Everyone's Favorite After First Round of French Election
By and
JPMorgan Asset favors European stocks as political risk fades

Goldman predicts euro gains as Pimco turns 'more constructive'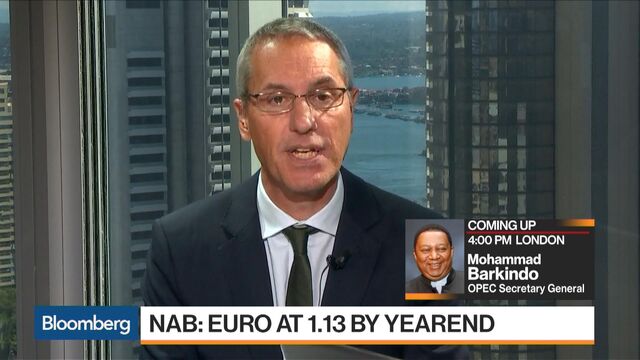 What a difference a week can make. Perceived as the riskiest currency on the planet until Sunday's French election, the euro is suddenly everyone's favorite.
Goldman Sachs Group Inc. expects the euro to gain almost 4 percent after the first round of the vote delivered all that investors hoped for. Pacific Investment Management Co. has a "more constructive" view on the currency and Nomura Holdings Inc. has recommended buying it. BlackRock Inc. and JPMorgan Asset Management favor European shares amid reduced political risk, while BlueBay Asset Management has already added to holdings.
Investors are more bullish on European assets as risks of a victory for anti-euro presidential candidate Marine Le Pen recede, reducing the odds of a political upset similar to Brexit and Donald Trump's victory. French polls, which got the first-round results right, now see centrist Emmanuel Macron becoming president. The rising optimism contrasts with option prices before the April 23 vote, which were the most bearish for the euro than any other currency.
"We see short-term political risk in Europe receding," Thomas Kressin, Munich-based portfolio manager at Pimco, which manages $1.5 trillion of assets, said in an interview. "We consider the euro to be cheap. Investors will be back to look at the euro from a valuation basis. We see the fundamental fair value of the currency closer to $1.25 in the long term." Pimco declined to comment on its positions.

The euro rallied 1.6 percent after the French presidential election as of 10:00 a.m. in London on Thursday, touching a five-month high of $1.0951 on Wednesday. The Stoxx Europe 600 Index of shares has gained 2.4 percent in the same period. The yield spread between French 10-year securities and German bunds narrowed to 47 basis points from as high as 84 basis points in February.
"The French election is already a first step toward a more stable political environment in Europe," said Vincent Juvyns, global market strategist at JPMorgan Asset, which oversees $1.8 trillion globally. "I am, from a fundamental and economic perspective, enthusiastic about Europe." The fund is neutral at the moment on Europe but would look to increase exposure in coming weeks, he added.
'Done Deal'
The cost of two-week options to buy the common currency against the dollar has surged, relative to contracts for selling, to minus 133 basis points from minus 386 basis points before the April 23 vote. The so-called risk-reversal rate was the most bearish for the euro among global currencies on April 21.
Goldman Sachs and UBS Group AG both expect the shared currency to extend its advance toward $1.13.
"The market has acknowledged that the polls were accurate in France," Isabelle Vic-Philippe, Paris-based fund manager at Amundi Asset Management, said in emailed comments. "So the second round seems to be a done deal and Macron has a high probability of becoming the next French president."
Risks Linger
Still, some caution is warranted.
"The probability of a Le Pen presidency has decreased but is not yet null," said Marc de-Muizon, a London-based economist at Deutsche Bank AG. "The risks of a possible new scandal, a strong debate performance by the National Front leader or complacency from the electorate should still be monitored."
And just as France concerns ease, another political risk looms on the horizon. Italian elections, likely in early 2018, will be "the next pressure point," Goldman strategist Silvia Ardagna wrote in a client note.
Amundi Asset bought "some" bonds after France's election, according to Vic-Philippe, while Credit Agricole SA said in a note to clients that Asian accounts and central banks are buying French assets again, according to London-based strategist Afsaneh Mastouri.
"It makes sense to have a positive view on risk assets in the euro zone," said Mark Dowding, a London-based fund manager at BlueBay Asset, which manages $55.5 billion and has overweight positions on the region's corporate, financial and sovereign debt. "We feel some more conservative investors will wait until after the second round of the vote, but that markets will rally in anticipation of a Macron win."
— With assistance by Adrian Krajewski
Before it's here, it's on the Bloomberg Terminal.
LEARN MORE