Venezuela Opposition Calls New Protests as Death Toll Mounts
By and
Nationwide anti-government marches are planned for Wednesday

Death toll from clashes over the past month rises to 26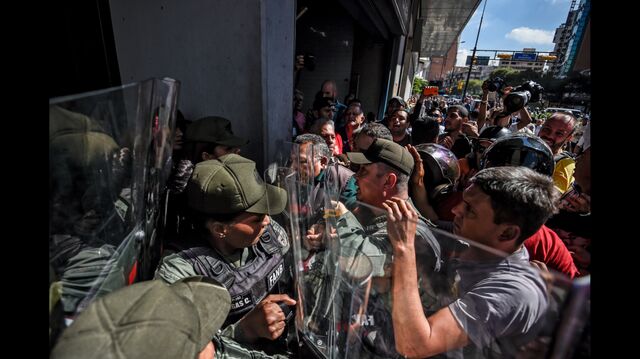 Venezuela's opposition plans to march on Wednesday to downtown Caracas as part of its campaign to force fresh elections and restore the powers of the parliamentary branch it controls.
Opposition leader Juan Carlos Caldera, speaking at a news conference Tuesday in Caracas, said the march would head to the Human Rights Ombudsman's office from the same 26 starting points used in an April 19 march that drew over a million supporters.

Opposition supporters occupied roadways around the country for much of Monday afternoon amid only a limited response from security forces. Still, Public Prosecutor Luisa Ortega Diaz, who publicly split with ruling socialist party of President Nicolas Maduro after the Supreme Court tried to invalidate the National Assembly, said on Tuesday that the death toll from clashes over the past month had risen to 26 after three more people were killed overnight.
"Everyone should tone done the rhetoric and try and elevate it," she said, renewing a call for fresh dialogue and adding that 1,289 people had been detained over the past weeks of unrest. "No one desires a civil war."
The press office for opposition lawmaker Williams Davila, who represents Merida, alleged late Monday on Twitter that pro-government armed paramilitaries had fired shots at protests in that Andean state.

The opposition is expected to announce their protest agenda for the rest of the week after Wednesday's rally. Opposition lawmaker Miguel Pizarro said that the National Assembly would spend Tuesday communicating with international groups including the United Nations and the Organization of American States.
"Protests have yet to reach a level, in terms of persistence and turnout, that would prompt key stakeholders to abandon Maduro," Eurasia Group analysts Risa Grais-Targow and Agata Ciesielska said in a report Monday. "However, unrest is continuing to spill over into Chavista strongholds, suggesting that the tipping point may be nearing."
Before it's here, it's on the Bloomberg Terminal.
LEARN MORE